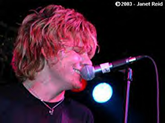 Wakefield and The All-American Rejects
Saint Andrews Hall, Detroit, MI
May 21, 2003
By: Matt Boltz

The All-American Rejects were anything but rejected when they stopped in Detroit on May 21, 2003 to play before approximately one thousand enthusiastic fans at the sold-out Saint Andrews Hall. The show, which was originally scheduled for the much smaller venue The Shelter, sold out several weeks in advance and was subsequently moved to the much larger Saint Andrews. Tickets sold out more than a week before the Wednesday night show, attesting to the rising popularity of the Rejects even in a market not well known for strong alternative radio.
The Stillwater, OK natives, led by the energetic Tyson Ritter (vocals/bass), whipped the crowd into a frenzy while plowing through tracks from their self-titled debut. The Rejects displayed a great stage presence and did a good job of playing to the fans, though at times they seemed as if their show was geared more toward an arena than a smaller venue like Saint Andrews. The album was written and performed by Ritter and guitarist Nick Wheeler (who also played drums and keyboards as well as handling the programming on the CD), but the songs were performed live as a four-piece with guitarist Mike Kennerty and drummer Chris Gaylor joining Ritter and Wheeler. The band was very musically tight and sounded heavier and faster live than they do on their album.
The crowd was into the Rejects from the opening notes of Don't Leave Me and displayed a tremendous amount of energy for the duration of the shows. Songs like My Paper Heart, Too Far Gone, and Your Star were particularly well received by the fans, many of whom seemed to know every song in the set. The band and crowd maintained their collective energy throughout their performance, with the fans often bouncing, dancing, and singing along and the Rejects belying their youth by playing up to it expertly as if they had been playing sold-out shows across the country for years. Ritter, Wheeler, and company closed their set with their breakthrough hit and fan favorite Swing, Swing and the follow-up single and aptly titled Last Song, leaving many of the fans sweaty, satisfied, and eager to talk to the band at the post-show meet and greet.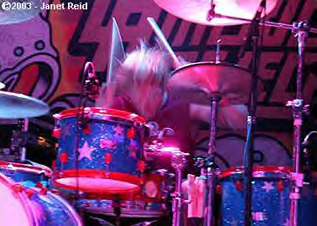 Wakefield, a young quartet from Saint Mary's County, MD, was a very capable opener for the Rejects. Wakefield's 11-song set of infectious punk pop, musical chops, and energy won them many new fans and kept their merchandise table busy throughout the night.
Wakefield's tight set and crowd-friendly stage presence made it hard to believe that this is a band with members still in their teens and only one album under their belt.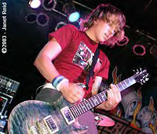 Songs like Sold Out and Heaven's Coming display a lyrical maturity beyond Wakefield's years while Give Me a Reason, Infamous, and Un-Sweet Sixteen got the crowd moving thanks to catchy guitar parts and the energetic and talented work of ex-Good Charlotte drummer Aaron Escolopio. Mike Schoolden contributed the bass lines while J.D. Tennyson and frontman Ryan Escolopio provided the catchy guitar hooks and crunchy riffs. Wakefield's backup vocals were stellar, with Tennyson and Schoolden complementing Ryan Escolopio's lead vocals often throughout the set. In addition, Tennyson shined when he took the lead vocal reins for a pleasantly surprising cover of Superdrag's Sucked Out.
Both bands played predominantly upbeat sets, capturing the audience's attention and energy with melodic hooks, great musicianship, and an obvious enthusiasm for playing live. Wakefield and the All-American Rejects are young bands touring in support of their first album, and both groups have the talent to stick around for a while and give those who haven't been fortunate enough to see or hear them yet many chances to do so in the future.

http://www.allamericanrejects.com
http://www.wakefieldrocks.com
http://www.superdrag.com