Will Hoge: Interview
December 2001
By: Lauren Jonik (lauren@soundaffects.net)

At its best, music is transparent--- like a clear flame. It can be gentle and warming or bright and intense--- or both, but when it is real, you feel it. Blending passion, honesty and soul with down to earth rock and roll, Will Hoge and his band, bring a kind of tangible energy to their songwriting and performing. It is this sense of realness and fun that has been winning over audiences and turning concert-goers into loyal fans.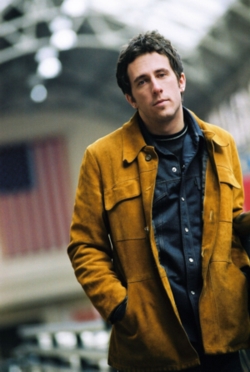 The band, composed of lead vocalist/guitarist Will Hoge, guitarist/background vocalist Brian Layson, bassist/background vocalist Tres Sasser and drummer Kirk Yoquelet, is dynamic in their approach to sharing their music. At the heart of what they do is the simple yet powerful act of connecting with each other, the crowd and ultimately, the sounds they are creating and recreating night after night. "We want people to enjoy themselves--- and we want to interact with them," said Will Hoge. Whether playing to small or large crowds, their dedication to putting on a good show remains the same. As Brian Layson explained, "we try to put on a very exciting, energetic show and we have a good time ourselves and hopefully, that comes across to the audience." If the enthusiasm expressed by fans is any indication, indeed they are succeeding. "Everytime I go to a show, I'm blown away by their performance. . . I think I know what to expect, but the shows are always so different. I love how they change the setlists so often. When I saw them three nights in a row, the set was different every night," said Darcy Sachs of Atlanta, GA.
Behind every great live performance is the foundation of solid songwriting. For Will Hoge, the principal songwriter in the band, the process of bringing those songs into existence varies for each song. "I think my favorite ones are the songs where they come together and the lyrics and melody and music all sort of spill out. Those are the real gifts." Taking inspiration from the love the of music itself and the commitment to growing in his craft, Will said, "it is like anything else, the more you try and do it, the more opportunities you set yourself up for." Your Fool, co-written with Tres Sasser, is the band's current single and has been receiving airplay across the country on radio stations, like WXPN in Philadelphia and WRLT in Nashville. The first time the band heard one of their songs, Ms. Williams, from start to finish on the radio was a memorable one. "It was one of the truly celebratory moments of my entire life," said Will.
Independently releasing their first full-length studio album, Carousel, in January 2001, allowed the band to grow at their own pace. "Doing it independently really enabled us time to learn how to be a band and go out on the road and handle things on our own. I think it was definitely a good thing."
They signed with Atlantic Records in the summer of 2001 and while on the road, have begun writing songs for the next album--- their first record that will include the guitar skills of Brian Layson, who joined the band in December 2000 after the departure of guitarist and former Georgia Satellites member, Dan Baird. The transition of the changing line-up was an especially easy one for all concerned. "I remember telling Brian after the first practice that we will be a better band if he is in it with us," said Tres Sasser.
Believing that success is building a foundation for longevity and utilizing their opportunities to grow, the members of the band are grateful for the chance to pursue their dreams. "I think in some ways, we are already successful because we are all doing what we wanted to do as kids and we are at an age where a lot of people had to give up, basically," said Kirk Yoquelet. Added Will, jokingly, "In a weird way, riding around in a van with four other sweaty guys is sort of success in and of itself."
With fire and grace, the band is setting their sights appropriately high. When asked what their hopes are for the future, Brian simply remarked, "we want to take over the world. We all want to make a huge impact. We love what we do." And it shows. The old adage is indeed proving itself to be true--- where there is a Will---- and Brian, Tres, and Kirk, there will be a way.

http://www.willhoge.com
http://www.geocities.com/willhogerox
http://www.geocities.com/willhogefan
Photo by Peyton Hoge, courtesy of HoopLA Media and Public Relations