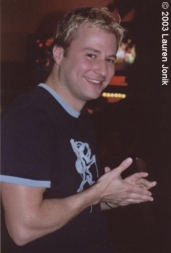 Scotti Mann: Interview
November 2003
By: Lauren Jonik (lauren@soundaffects.net)

Just as the moon guides the tide, the gravitational pull of music allows some things to flow so freely that the force is unmistakable. The music of Scotti Mann is at once smooth and textured, capable of soothing and tugging on one's heartstrings simultaneously---- in short, he is a natural.
Embarking upon his musical path early on as a child, Scotti recalls the first moment when he realized that he had native ability. "I think I was about eight years old. I was vacuuming and our piano was sitting in the living room. I had a song in my head, so I went over and just figured out the notes." Hearing his son's first song in the making, Scotti's father asked him what he was playing and when Scotti replied, "just something I was making up," his father, also a musician, had him sit down with him at the piano. Coming from a musically inclined family, it is not surprising that the seeds of Scotti's musical journey were planted when he was barely out of the cradle. "My dad has four brothers and when I was little, they were in a band together--- all but one. They would rehearse in the boiler room of the apartment we were in. So, I would be two or three years old, laying there listening to Steely Dan, The Doobie Brothers and Chicago and hearing it through the wall." Those early influences, coupled with artists he discovered later on in life like Sting, The Beatles, Daryl Hall and Brian McKnight, aided Scotti in cultivating a sound that defies definition. "You can't really categorize it. . . There are little things you can pick out from all of the influences, and to me, that is what you should do. You shouldn't sound like somebody."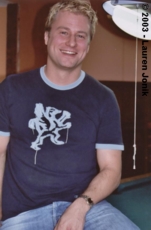 It has been said that one of the secrets to success is to be ready for the opportunities that knock on your door. When Scotti Mann's first chance to pursue music professionally came unexpectedly when he was fifteen years old from a source very close to home, he seized the day. Scotti's father was playing in a band whose keyboard player had left. Up until that point, Scotti had only been a singer and a drummer, both of which he learned simply by doing. "My dad would hand me sticks and say, 'here, go beat on things and learn. . .' As for singing, I was blessed with a decent ear--- and to me, eighty percent of singing is listening. You have to hear what you're doing. It's all listening." So, when his father mentioned the opening in his band, Scotti offered to sing. But, only having enough money to pay for one more person to join the band, his father instead handed him a keyboard and a tape and said, "Here are forty songs. You have two weeks to learn them." And, rising to the occasion, he did.
During the next several years, Scotti Mann's love of performing only continued to grow. Growing up in Reading, PA , Scotti played both solo and with bands like Johnny O and the Classic Dogs of Love in and around the southeastern Pennsylvania area where he learned how to put a show together, how to handle a crowd and how to cultivate his stage presence. "There's a lot more talent in this town than anyone acknowledges. Reading is full of amazing people--- here and Philly." The experiences of his musically formative years helped Scotti to view performing as an art form in and of itself and to fully appreciate the value of filling a room with music. "I feed off of energy all the time--- even the band's. Now, I work with Erik Steinert who is my drummer and Benny Simms, who is my bass player and it's the three of us. But, just having other people to vibe from influences me more and then, it gets me hyped. I then put that out and the audience gets it and puts it back--- it's just throwing energy around. It's fantastic. I get chills even if it is three people in the room."
In the early Autumn of 2003, Scotti Mann had a chance to perform in Germany. "It was amazing just being there where the wall was. I could jog back and forth between east and west Germany, where fifteen years ago, I would have been shot. With German audiences embracing his music, Scotti explains that feeding off of the energy of the crowd only enhanced his performances there. "I can't help it--- sometimes, I feel like I almost embarrass myself because I get so into it." With a smile he adds, "I don't do really crazy things any. . .more."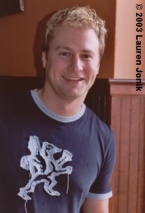 Because he honed many of his skills while playing other people's music, Scotti Mann holds a deep appreciation for getting to create and share his own, as well. One song that is a particular favorite of his to perform, Alone, was written from start to finish in only moments and began from just a melody. "I heard it in my head as I was getting out of the shower. I started singing it to myself and ran into my bedroom and wrote the whole song in maybe half an hour. I always find that the best things that happen are the ones that happen real quick. It's almost like someone is guiding you. The energy is just flowing."
The song, Trying To Breathe, while originally inspired by observing the struggles children have growing up--- "thinking about how kids can be so smothered by society that it's hard to breathe," took on a grander metaphorical meaning when he and Erik Steinert worked on the lyrics. "Erik is an amazing lyricist." Through it all, just one thought remains / If heaven should fall / It'll still feel the same / I need to return to a world up above / I need to return to my love. Working with Erik and the other partners of Stray Dog Music, Hugh Colocott, Axel Niehaus and Brian Callahan, has helped Scotti Mann to grow as an artist and to take his music to the next level. "These guys just gave me carte blanche with creativity. They're such a wealth of accumulated knowledge. They're phenomenal with what they do and they have honed it for so long. It's great--- and the fact that you have guys like that who I respect who also respect me at the same time--- it's a wonder. It's a godsend. I got really lucky."
Ready to move ahead and take the ever-present next step, Scotti Mann is excited for what the future holds. "Things are really starting to move forward. It's like coming to the top of a hill on a rollercoaster." The definition of success is changeable and one that evolves as an artist grows in his craft. As Scotti explains, "Before, it was: 'I want two big houses--- one in California and one in New York' --- that kind of thing. Now, I just want an apartment and a new car and to be able to pay for it with my music. Yet, at the same time, I don't care where I am as long as I am satisfied with what I am doing. There are different levels of success that I kind of bounce back and forth between. Just being satisfied with what I do or just touching one person--- or if I see one person being moved and saying, 'wow,' I'm cool."
But, ultimately, it is the true love of music that motivates Scotti Mann. "I hope people start paying more attention to actual musicianship. You can get so much out of it if you dig it and dig it the right way. If you listen to it and really get into it, it's amazing," explains Scotti emphatically before continuing. "Music is an amazing thing to have in your life. You can add so much to somebody's life."

http://www.scottimann.com
http://www.straydoghaus.com
Photos by Lauren Jonik