Ryan Cabrera: Interview
November 2004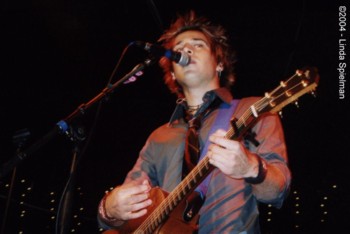 By: Linda Spielman

In the world of television reality shows, fame comes to any of those associated with the prime focus of each show. 'Tis no exception for Ryan Cabrera. Although much of the viewing world got their first glimpse of Cabrera as Ashlee Simpson's boyfriend on her reality-based MTV series, riding on the coat tails of the show and on his former girlfriend's success is truly not part of the equation for Cabrera's current success in the music business. So, from this point forward, there will be no mention of what and who helped to bring Ryan Cabrera into the forefront of the music business.
I recently had an opportunity to sit down with Cabrera before his show at The Rock Club in Pittsburgh, PA in November 2004 to get a better glimpse into what makes the musician behind the charismatic persona that leaves women of all ages wanting to know more.
The twenty-one year old Dallas native is as nice as a true southern gentleman when talking about his love for music, writing, touring and success. It has been a long road to his debut release Take It All Away. Starting out with guitar in middle school, Cabrera, a self-taught musician, continued his musical path during his high school years in the band Rubix Groove. The success of Rubix Groove in the Dallas area fueled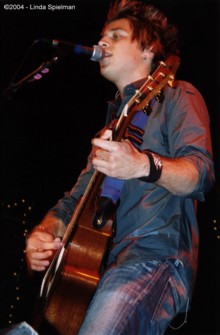 Cabrera's desire to move forward. Looking back humorously, he acknowledges that it was playing that lead him to try his hand at singing. "In just wanting to play guitar. . . it came along with singing and I really didn't have a choice. They just put me up there. I'd never sung in my life. I was horrible, of course."
The humble singer/songwriter has more drive and devotion for his craft than what many people will see or admit. The turning point in Cabrera's life came courtesy of The Dave Matthews Band. After hearing a DMB song on the radio while out driving, Cabrera knew the direction he wanted to go with his career. "I love punk music, but I was playing and singing crap punk music. That day when I heard Dave Matthews, I put down the electric guitar and picked up the acoustic. I have never looked back since. I was like, this is what I want to do, right there," Cabrera enthusiastically remembers.
With mediocre success of an indie release entitled Elm Street, Ryan Cabrera quickly realized that with determination and some guidance that he could break into mainstream music on a national level. Once Cabrera's major label deal was inked, he completely immersed himself in putting forth the best CD he could as an artist. "I wrote non-stop for four months," Cabrera states. With equal time spent on training his voice, the final result of all of Cabrera's efforts was over forty songs for possible consideration for Take It All Away.
With the guidance of John Rzeznik of the Goo Goo Dolls as co-writer and co-producer, Cabrera's raw talent easily shined through on his CD. Cabrera is willing to admit the musical obstacles he faced when creating his CD. "It's all about confidence. When I started this record, I didn't have that because I had never gone through the process. By the end of recording, I was able to go back in and say this is what I want to change and have the confidence to express how I wanted this CD to sound."
Such tracks as Blind Sight, Take It All Away, and On The Way Down are prime examples of all of the months of hard work that Cabrera put into developing songs that he is proud of. Whether it is dealing with drunken driving, acknowledging the destructive forces of materialism or finding the one true companion that makes life make sense, Cabrera has found a delightfully successful formula that makes his debut CD more substance than fluff.
Ryan Cabrera's blind determination and devotion to his music is evident on his CD, as well as on his live tour. Making his second appearance in Pittsburgh (his debut was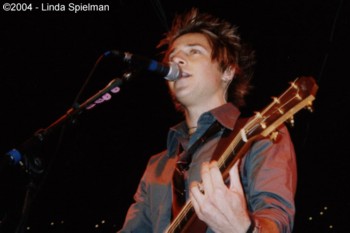 as Jessica Simpson's opening act in the summer of 2004), the lines of girls, moms, and women in their twenties further evidenced his increasing popularity. It doesn't matter who Ryan Cabrera used to date, but moreso what is said in his music. Cabrera and his band played for more than an hour to a packed crowd out at The Rock Club, treating fans to almost the entire CD, a cover of Paul Simon's You Can Call Me Al, as well as some new material. Although Cabrera's songs are musically sound, catchy and heartfelt, one can acknowledge that Cabrera isn't too hard on the eyes in the obvious estimation of his female fans. The self-proclaimed "band geek," as he put it, is a bit shy when it comes to being known as a heart throb.
More than anything, Cabrera is excited to be out on the road, touring and playing for all of his fans. "Playing a sold out show at the House of Blues in Chicago was crazy. To see the line of people, my name and the words sold out next to it was something right out of a dream for me. After playing for so long where only my family and friends would come out to see me and working my butt off to get them to come out, this is truly amazing. Now, I have people coming out to shows, singing along with the songs every night, that is where it all is for me. . . I don't care if it's five people. Those five people are coming to see me. I will always appreciate that," Cabrera is quick to point out.
The humble southern gentleman is very willing to accept and appreciate all that his career is offering him. He clearly sees that far too many people who jump into the business with immediate success don't get the chance to savor all that is happening around them. With that said, it's clear that Ryan Cabrera has a bright and successful future ahead of him as a singer and songwriter.
Photos by: Linda Spielman