Renee Cologne: Interview
November 2007
By: Lauren Jonik
Rarely have the words "rock and roll" and "housewife" fit together so succinctly as in the descriptive title of Renee Cologne's new album, Rock and Roll Housewife. Wandering the aisles at Sears / wondering how I ended here introduces the first song, Know I Said, as Cologne stands invitingly in the musical doorway. Before journeying to the instantly relatable chorus about the beauty of changing one's mind, Cologne decides, I'll take the dryer and you. In Housewife, Cologne instructs Put two feet on the floor, leave the bed warm / Keep breathing as you run for the door / Flip the cakes in the pan / Set the table and which way will the fire fly first? Cologne inspires the notion that perhaps creating a collection of songs is as detailed a process as running a household. And, it is only through the mastering of the appearance of simplicity that its true complexity can begin to be discovered.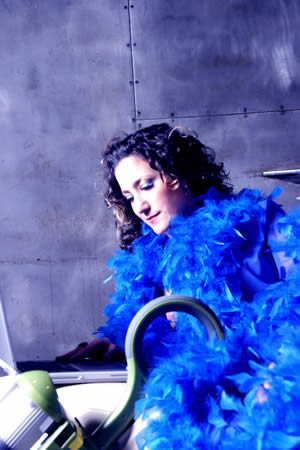 Renee Cologne's musical journey began early in her childhood and has led her down many twisting and turning paths that have included a getting degree in recording engineering from Berklee College of Music after attending college for music in her home state of North Carolina, background singing for Meatloaf in front of half a million people, and being the voice you've probably already heard singing on many well-known commercials. But, Cologne's latest two projects are especially close to her heart: releasing her latest CD and becoming a mother. Of the album, Cologne says with a chuckle, "It's sort of like taking "Desperate Housewives" one step further. Although, it's not meant to be all funny because it's about the whole path that we're all on in our lives. It's tragic and funny and large than life. It IS life. So that is where I draw my inspiration from: everyday life and the grandness and the smallness of it."
Cologne recently celebrated the release of her CD at Joe's Pub and remaining true to having been influenced by David Bowie, Elton John and Queen, Cologne adds an almost theatrical touch by wearing beautiful and well-planned costumes. "I want to be inclusive with the audience and with people who find a kindred spirit in what I'm doing, but I also want to entertain them." While she values the time spent alone creating, Cologne views her live performances as "the completion of the creative circle. For me, so much of the process is done by myself in my attic studio."
Well-versed in the technological aspects, Cologne's music encompasses a colorful palette of sounds. But, she acknowledges, "As much as I'm interested in electronic music and in technology, the song really is still the most important thing to me. The song still has to be strong and there has to be an emotional element otherwise, why bother? It's about communication and not about the bells and whistles."
Of her days touring with Meatloaf, Cologne says, "That was like "Spinal Tap." We had a teal green tour bus and the stories were long and many-fold. The second gig we did was in London for the Prince's Trust in Hyde Park and I had no idea what we were going into. We went to walk on stage and there were people for as far as you can see. There were probably 500, 000 people and helicopters were flying overhead. It was a real trip and very exciting."
If you've watched TV during the past few years, chances are good that you may have heard Renee Cologne's voice. In addition to creating her own music, Cologne sings on commercials. It was her voice on a frequently run, highly acclaimed M&M commercial that was run for about a year. "I'm lucky that I make a living basically from doing commercials. The TJ Maxx commercials are all me and I'm singing on the Master Card commercials for the Christmas campaign that's getting ready to start."
With life an ever-changing work in progress for all of us, Renee Cologne has found the best of both of her worlds. "I just came back from the grocery store and I was putting groceries away and on my countertop, I have "Electronic Musician" and "Parenting" magazines that came today in the mail and that pretty much sums it up." Join Renee for her next live show at The Cutting Room on January 17, 2008.

http://www.reneecologne.com
http://www.myspace.com/reneecologne
Interview originally appeared in IndieSoundsNY (Issue #28 November 2007). Reprinted with permission. Photo by: Judy Schiller.