Michael Tolcher: Interview
March 2005
By: Linda Spielman

Talented, truthful, honest, spirited, grounded, sincere, introspective and light hearted are just a few words to describe singer/songwriter Michael Tolcher. With some of today's music, we are pleasantly digressing back to the true nuts and bolts of quality songwriting and live performances with such artists as Dave Matthews and John Mayer. Michael Tolcher is another of these stellar artists who is carving out his own niche and identity, while winning over audiences worldwide. Maybe it's his Southern charm and persona juxtaposed with his somewhat jaded view of people, life and the world that makes Michael Tolcher such a refreshing artist to see and hear. His writing doesn't express things through rose-colored glasses. However, it quite possibly ignites a fire in the human spirit by putting a sensitive and positive spin on things that allow listeners to be hopeful and happy and simply to dance.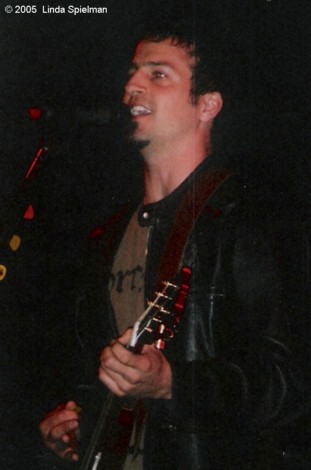 Sitting backstage at a recent show to chat about his debut release I Am, touring and life in general, I found myself feeling as though I was catching up with an old friend. Michael Tolcher's personality is magnetic, which effortlessly parlays itself into his music. As he relaxes in the lounge area, sitting on top of a table swinging his legs, he speaks honestly and passionately about his influences and experiences that have brought him to this point in his life and musical career.
"Once, when I was 16,this homeless guy, who I refer to as a street prophet, asked me what I was going to do with my life? I responded that I wanted to get into business. He got right up in my face and calmly but with so much passion said, you are going to have to grow fangs boy. He was so close that he spit in my face when he said it. He made sure it was a message I would never forget. That was some of the best advice I've gotten in dealing with life, and also using it when getting into the music business," Tolcher recalls.
Taking that piece of advice into adulthood and into the industry has enabled Tolcher to see things a bit more realistically as a newcomer on the scene with a successful debut CD, yet never compromising his sincerity and passion as a person and songwriter.
One could easily compare Michael Tolcher to the John Mayers, Dave Matthews and Gavin DeGraws of the music world. And in many respects, his music holds up with the best of his musical peers. But, there is something more to Tolcher's music. Tolcher takes chunky organic rock/pop vibes and successfully incorporates distinct elements of R&B, soul and urban grooves. For Tolcher blending these genres into his music is a natural progression since urban music was a mainstay of the singer/songwriter's youth, as well as a driving force for him today.
As a songwriter, Tolcher has a few goals in mind for his listeners including offering a positive social awareness and moving people to dance, get loose and have fun. When he writes, he lets the songs take on their own personalities and lets the combination of his musical influences mold the songs. He explains it this way, "Bakers bake cakes, pies, muffins and truffles. As a writer, I want to be able to play all the styles of music I enjoy and create songs that reflect my many influences."
Michael Tolcher has a pretty good grasp on what is important in his career. Somehow, as he sits across from me munching on an avocado, envisioning him at this point as anything other than a musician is hard to imagine. Although, at one time, Tolcher's dreams and aspirations had him hopeful of being an Olympic athlete. Sidelined by a leg injury, we now find Michael Tolcher very comfortable with his second calling in life. He is comfortable with the direction his life has taken, and has managed to stay extremely grounded.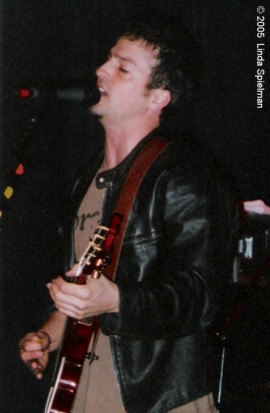 Maybe, his outlook and the passion he emits is from his true humility to learn from others and gain knowledge from them. During his days as a fledgling musician playing at the Atlanta Federal Penitentiary, Tolcher befriended a man who would help mentor, guide and support his songwriting. Inmate, Dr. Mutulu Shakur (Tupac Shakur's father), notes how impressed he was from the beginning with Tolcher's music and gift of words. "In his music we are presented with the raw, clever rejection of the forces of NORM, without belligerence. The truth and depth of this artist inspires--- begs us for a time of total honesty."
Michael Tolcher derives all his songs from life experiences, growth, the pursuit of happiness and from contemplation. "I've been told that my songs are either spiritual or sexual. To me that is a compliment on both fronts," Tolcher notes. "My philosophy is that the human spirit is currently a bit suppressed," Tolcher further adds. "It's being distracted by our way of life. My intention is to spark that spirit and inspire it to act."
Tolcher's debut CD, I Am has thrust him into the spotlight of the touring circuit with the likes of Hanson, Maroon 5, The Clarks, Gavin DeGraw, Howie Day and as well on his own headlining gigs. Collectively, the array of production people on this CD reads like a who's who of popular music. The song Sooner or Later was chosen as the theme song for the show Life As We Know It. Tracks like Mission Responsible and Miracle challenge the listener to break free from our self-absorbed world, enlighten us to take responsibility for our actions and make us realize that what we do does affect others and the world around us. The R&B and funk influences are personified in No One Above and Kiss and Tell--- infectious, toe-tapping, hip swaying songs that prove you can write cool lyrics and pair them with a great groove. My personal favorite song, despite the major TV show endorsement is Sooner or Later. It is catchy, fun and radio-friendly, yet still yielding a positive message.
I Am is a bit of a serious record lyrically. However, Michael Tolcher subtly brings his message across with rock, pop and funk. And, although he has a lot to say, you won't find Michael Tolcher's music preachy. Just being in his company for a short time, his playful side is immediately apparent. Even preparing to go on stage while doing his pre-show vocal warm ups, he is dancing around and joking with his band members. That person and persona are one in the same. Tolcher's charisma, seductive charm and playfulness come across while he is on stage. He also isn't afraid to mix it up a bit during his live show, having been known to break down a few verses of Whoop There It Is or MMMM Bop. What's also nice about seeing Tolcher live is the element of surprise in hearing songs from I Am done with arrangements different than those on the CD.
Tolcher best describes the title of the CD as well as how it reflects him as a person. "I Am means that as an individual I exist in a way that is influential, and it's powerful, and that I am as a source. I am. I exist. I'm a source of whatever work we are as people--- energy light, feeling, in my case, songs. And also being the title of the record, the record is what I am. It's a description of what I am."
Michael Tolcher is one of those people that whether he was a singer or salesman, people would naturally gravitate towards him. He can make you think while he makes you smile. Whether on stage or backstage doing an interview, his ability to make people feel comfortable is effortless.
Michael Tolcher has come a long way from singing his first song at the age of four in the church choir. His talent, message, music and personality is something that is a welcome addition to the music community.
Photos by: Linda Spielman