Lucy Woodward: Interview
August 2007
By: Lauren Jonik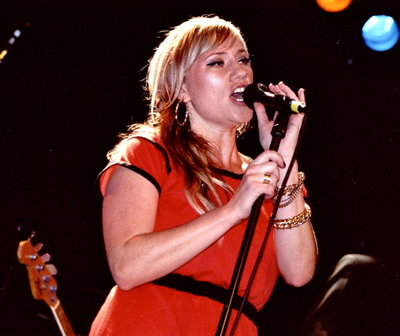 "Gonna use what I got to get what I need," Lucy Woodward playfully and aptly sings in the chorus of the second song on her new album. Often, the most authentic reinventions come to life not through a calculated plan to fit into an already established mold, but through the desire to dive into the process and let the art itself lead the way. For Lucy Woodward, the latest steps on her musical journey have been just that. With the release her of new album, Lucy Woodward is. Hot and Bothered, Woodward's style has grown and matured while taking several sonic twists and turns to create a collection of songs that could easily double as a movie soundtrack in cohesiveness, variety and texture.
After having released and supported her debut, While You Can, through Atlantic Records several years ago, Woodward found herself ready for something different. At the onset she joined forces with her old friend Itaal Shur, who wrote Santana's Smooth and who had played a large role in her early songwriting development. "We went into the studio with the mindset of 'let's not think of the marketplace or what's on the radio' and really do what we feel and see what it turns into. We began writing these really musically satisfying songs. We have fun when we write and when we play, " Woodward explains.
Itaal Shur co-wrote most of the songs on the new CD with Woodward. As Woodward notes, they found inspiration all around them, even from a cold, snowy February day. On the sultry, blues-twinged Geographical Cure, Woodward both pays homage to her city she has called home since her formative years and echoes a sentiment many of us feel during the middle of winter. "I need something pure, like a warm and sunny geographical cure." Opening her recent show at the Bowery Ballroom with the funky Love Is Gonna Getcha, Woodward describes it as one of her favorite songs to sing live. "It's got such an instant vibe. It's not like a pop song that you would hear on the radio. I love that especially now that people don't know what I'm up to or now they're just hearing about it, they can hear something that's so different from the last record." Perhaps what stands out the most is Woodward's vocal versatility and her ability to embody so many different aspects of femininity with her voice--- from sassy to sexy to sweet to strong, often simultaneously.
Born in London and raised in Europe and New York, Lucy Woodward grew up in a musical family and it was her grandmother who inadvertently inspired the titled track, Hot and Bothered. The song's melody originated in a lullaby that she used to sing to Lucy as a baby. Having an awareness of a greater landscape than what was just outside her front door at an early age helped to instill in Woodward a love of travel and an understanding of cultures different from those familiar--- and the simple and powerful premise that music is truly the universal language. Reconnecting in her late teens with activist Amy Eldon, the daughter of her mother's good friend and founder of the Creative Visions Foundation (www.creativevisions.org) had a profound effect. Eldon's work spans the globe and is "about kids helping kids and having other kids be aware of other kids' issues in the world. Ten years ago, they traveled to Kenya together and as Woodward explains, "It just opened my whole world up." She returns every few years. "We always try to do something positive while we're there. Amy started an orphanage, so we'll go and bring toys and supplies to them." When Woodward visited a Nicaraguan refugee camp, she and her group sang to the children- and they to them. "I didn't know what they were singing and they didn't know what we were singing, but it was the music that connected us."
Realizing that life is short inspired Too Much to Live For. "It's about letting go of the petty things in life. While it takes a minute to get there and we can all fixate on the minor things in everyday life, it just really doesn't matter in the end," Woodward begins before continuing with a chuckle, "Now, having a song written about, I have to believe it."
Lucy is playing at the Mercury Lounge in NYC on August 13, 2007 at 9pm.

http://www.lucywoodward.com
http://www.myspace.com/lucywoodward
Interview originally appeared in IndieSoundsNY (Issue #25 August 2007). Photo by Lauren Jonik. Reprinted with permission.