Kristin Hoffmann: Interview
September 2005
By: Corinne Ferraro

A new artist with an old soul--- singer-songwriter Kristin Hoffmann brings insight and wisdom to her music, as she prepares to release her major label debut, Real, in January 2006 on Interscope.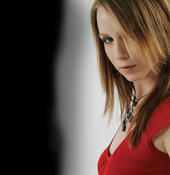 Hoffmann, who has garnered comparisons ranging from Fiona Apple to Laura Nyro, found her way to Interscope when a representative from the label started showing up to her shows at New York City's tiny Caffe Vivaldi. The Interscope rep had heard about her through a connection to Hoffmann's manager. Hoffmann was tucked behind a grand piano in the corner of the café, building a connection with the audience through her rich voice and intimate songwriting.
Live performances and studio recordings from Hoffmann both relate the tenderness and sincerity of her songwriting. Her live solo shows focus on Hoffmann at the piano, where her deliberate arrangements allow the emotion of her songs to flow through. She intersperses songs accompanied by computerized tracks, which free her to pour herself even more fully into her vocal performances. The result is the full attention of an appreciatively silent audience.
"You can really feel the energy in the room on any given night. Every single night you play you're dealing with a whole different energy. Depending on who's sitting in the room, you can have either a wonderfully deep spiritual musical experience, or you can have a very surface-level musical experience. I love it when everything flows, and you have a really great group of people who are really working together, and who want to have an experience, and it just happens, and everything just lifts up. I feel like, everyone just gets into a space--- in the right head space. One wrong table of people can set off the whole room. It's so powerful when you have that night that just transcends what we experience on an everyday basis--- I really appreciate those nights."
Rebounding from a major label horror story at 22 was an unsuspected beginning for Hoffmann. She was signed to Capitol Records at nineteen, and wrote and recorded half an album for them. Then her supporters at the label left the company. She was dropped, her recordings were shelved, and she found herself, it would seem, right back where she started. Almost.
Her experience had allowed her to watch and learn enough about recording to enable her to create and release an independent record, Divided Heart, which has since sold over 3,000 copies. Still, the years between her experience with Capitol and her deal with Interscope provided their share of growing pains for Hoffmann.
"I used to go through so many hard times, and be all over the place. And then I wondered -- why aren't things working for me in my music career? They weren't working because I had to do the work to get to a place where I could grow. I probably used to blame why my Capitol thing didn't work out on other people. Yes, people changed their lives and that was unfortunate for me. But I also think I needed to do a lot of work with myself to grow as a person. It was a learning experience that I needed to have, to reflect and change things within myself and change my views of dealing with things."
As Hoffmann struggled to find her place after leaving Capitol, some of her most critical learning experiences taught her about how to choose the right people to work with. "When you're first starting out, it's more important to compile a team of people who really care about what you're doing, and really care about you," she says. "People who aren't just thinking about money and how much they're going to get you signed for. People who really believe in your music and are willing to spend the time to make it happen, and help you make it happen. For a manager starting out with someone, they have to really want to be a part of what you're doing and a part of your life. I don't think it's easy to be a manager working with someone who's starting out. It's a lot of work. There's not a lot of money in the beginning. You really have to get over a big hump until both of you are having success."
Hoffmann's struggles in the music industry and in surviving New York City have indeed allowed her to grow. Her soulful songs reveal an artist who has earned the right to sing deeply positive songs, without discounting the struggles that led her there.

Real is slated to be released in stores on January 17, 2006. Divided Heart is available on cdbaby.com, and through digital music stores.

http://www.kristinhoffmann.com
http://www.myspace.com/kristinhoffmann