Ivory Wire: Interview
January 2004
By: Matt Boltz

The members of Ivory Wire have been through a lot as musicians. After starting the band Dovetail Joint in Chicago in the mid 1990s, singer/guitarist/songwriter Chuck Gladfelter and guitarist Robert Byrne worked their way to a major label deal with Columbia Records and a nationally-acclaimed single, Level On The Inside, from the 1999 album 001. However, Dovetail Joint found the figurative road to their second Columbia release full of potholes, to say the least. When one label-related hassle after another prevented the band from recording and releasing the music in which they most strongly believed for the follow up to 001, Dovetail Joint parted ways with Columbia Records in April 2001. Though the band's departure from Columbia gave them a great deal of freedom, the associated hassles and wrangling took a lot out of the band members and came with a price; drummer and founding member Joe Dapier informed the group in 2001 that he was leaving the band, but would continue to play with them for several more shows. Gladfelter, Byrne, and bassist Jon Kooker replaced Dapier with Henry Jansen, who had played a few shows with the band after Dapier announced his impending departure. The band released a five-song EP titled EP From the Underclass in January 2002, but by the end of 2002 Dovetail Joint decided to move in a new direction. At this point, the band had two non-founding members (Kooker and Jansen) and wanted to travel in a musical direction away from that in which they had been moving as Dovetail Joint. By late 2002, Dovetail Joint ceased to exist. Rather than going their separate ways, however, the members of Dovetail Joint formed a new band named Ivory Wire. While the Ivory Wire personnel mirrors that of the last incarnation of Dovetail Joint, it is in effect a new band, playing new songs and approaching their work with a new passion and philosophy.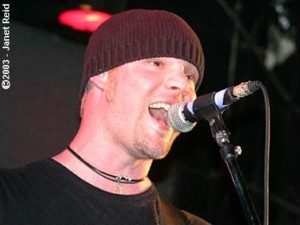 Having experienced the highs, lows, and points in between of the music business, the members of Ivory Wire have learned what works best for them and how to bring their musical visions to life by handling the recording and production duties of their debut, The World Is Flat, on their own terms. Recording the Ivory Wire debut themselves was "just a natural progression from what we had learned in the Dovetail Joint days," says Gladfelter. "Yeah, in hindsight it was the right thing to do, but we didn't know it at the time," adds Byrne. "I guess it was more instinctual than anything else," Gladfelter continues. "It was just like, "Okay, new music to make, let's do it ourselves." We had been demoing our own stuff by ourselves since the Dovetail Joint days, so we had learned enough about making records and about recording to know that we would be able to do it ourselves at that point. So, it wasn't necessarily a relief [to record the album ourselves]-- it was a relief when it came out great! With Ivory Wire, we know a lot more about what it is that we want to do in every aspect, where with Dovetail Joint we were like, 'Ah, wing it, we'll see what happens.' Whereas now we're like, 'Nope--- this is how it is, this is how it's going to go. This is how it's going to be.' That's easier--- we prefer it that way. It's a lot more rewarding, and we're represented the way that we want to represent ourselves, which we didn't necessarily think was the case with Dovetail Joint," says Gladfelter.
Dovetail Joint recorded several albums worth of unreleased material between the release of 001 and the demise of the band. Because Ivory Wire is such a new band and they created The World Is Flat very quickly after forming, such a high level of proliferation has been impossible to achieve to this point. While Gladfelter will not rule out the possibility of writing as much as he did with Dovetail Joint, it is clear that his, and Ivory Wire's, emphasis is on quality over quantity. Gladfelter explains, "I think that the approach to writing is a little bit different for Ivory Wire than it was for Dovetail Joint. First of all, we're trying to do something different. The World Is Flat has a kind of flow and a theme to it that Dovetail Joint records didn't have, which is something that was very conscious as we were recording the record. So it's a new challenge with all Ivory Wire material to write stuff that has that same kind of flow as The World Is Flat." Gladfelter refuses to become complacent or settle for anything less than exactly what the band envisions on future recordings. "In order to make our second record, we're going to have to come up with a new idea or reinvent ourselves in a different way to where we feel like we're making a record that's as good as, if not better than, The World Is Flat. So it's a little bit early to tell whether or not we're going to have extra songs," explains Gladfelter.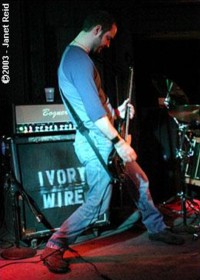 Although Gladfelter and his bandmates are known for rocking with two guitars, a bass, and drums, they do not shy away from using other instruments when those instruments fit the song. The World Is Flat includes some keyboards and strings, but they are only added when the band feels they will enhance the song and never just for the sake of having alternate instrumentation. Gladfelter modestly says, "I play the keys . . . but to say that I'm a pianist or say that any of us are piano players is wrong. We're not piano players--- it's just that we know enough about the instrument to be able to record the parts that we want to get out of it. It's not so much about the instrumentation as what we do with the instrumentation and where we choose to use it." As each song is written, Gladfelter will know whether keyboard-related parts will be appropriate for it. "The idea that was behind Ivory Wire was to make the aggressive stuff a little more aggressive and the mellow stuff a little moodier [than in the Dovetail Joint days]. So the strings and keys will play a part in everything that we do, and maybe even horns someday. I mean, nothing's off--- we have to see what we write before we do that. There's also some songwriting stuff that happens post-recording. For the song Promise to Burn, I just had Henry play some drum tracks, and then I went home and edited them and then wrote a song around them. And that's the keyboard song."
As with any band not having members dedicated specifically to instruments such as keyboards or strings, the replication of these parts in a live setting poses a problem for Ivory Wire. Although the band performs their entire catalog, they do not bring on extra performers or use pre-recorded samples during their shows. "We don't play keys on stage, we don't do strings on stage," explains Gladfelter. "We compensate in other ways. You kind of hope that the song itself is full enough where if you don't have certain instruments that are on the record, the song can still translate. We want it to be a live rock band--- we don't want to be relying on samplers or anything like that. We want to have four guys playing and not have to rely on computers on stage."
Although the members of Ivory Wire could have easily relied upon the name recognition they earned with their previous moniker, they have truly approached Ivory Wire as a new band and put their Dovetail Joint days behind them. Dovetail Joint had a very loyal and dedicated fan base that stuck with the band during their split from Columbia and craved the band's live shows; giving up Dovetail Joint's recognition, and possibly some of the fan base, was something the band felt was necessary to achieve their new goals. "If we were to get hung up on what Dovetail Joint was, or what it had meant to other people, or the name recognition, it would be impossible to move forward. Ivory Wire was born out of Joe leaving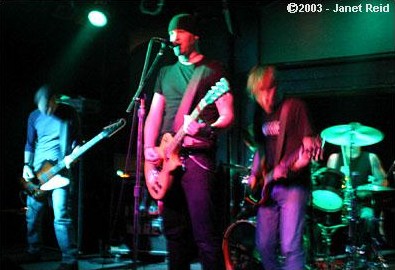 Dovetail Joint and us saying, 'Ok, Joe was such a pivotal part of Dovetail Joint; it's time to do something new,'" says Gladfelter. Though Gladfelter knew the band had to move forward after Dapier's departure, it was not an easy transition at first. "For a couple days it was hard to come to grips. But then as soon as we started writing new songs for Ivory Wire, it was pretty easy to put it to bed. Losing a fan base or losing name recognition didn't really matter to us because in order to continue to write and play and perform and book shows, a change had to happen. So it was a life support call. In order to keep doing it, we had to put the band to rest and start anew," he explains. "We're really, really proud of what Dovetail Joint was and what we did," he adds. "But the first couple of Ivory Wire shows, as soon as that record was done, it was such a rededication to why we were doing it in the first place that it was pretty easy to let it go."
Another reason that the band was able to put their Dovetail Joint days to bed is because they needed to do so to keep themselves happy and stay true to what they want to accomplish. "It's fun to have a connection with the audience, but to a certain extent, being in a band and being an 'artist,' you kind of have to be self-indulgent and serve yourself. Most great music is made in the perspective of canceling all of the censors and canceling anybody you're attempting to please other than yourself," says Gladfelter. "If you're trying to please other people with your music, you're never going to sound true and it's never going to sound original; it's going to sound catered." The members of Ivory Wire are not content with complacency. They are constantly looking to improve their music and push themselves to higher musical heights. As Gladfelter explains, "Really, being in a band writing songs for us is about discovering what we're capable of doing. Fifteen years from now we'd like to look back at our music and have that be a kind of timeline of who we were and what we were able to do. Whether other people care about it or not is just gravy."
With the combination of talent, passion, work ethic, experience, and fan support that Ivory Wire has, it would be no surprise if they are able to expand upon the success of The World Is Flat and keep making music for a long time. Promises Gladfelter, "As long as we can continue to do it and somehow make enough money to keep it going, we'll do it."