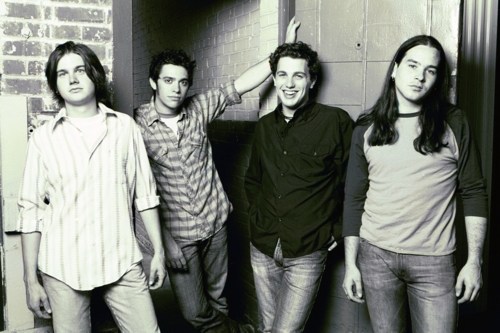 Ingram Hill: Interview with Justin Moore
Summer 2002
by: Lauren Jonik (lauren@soundaffects.net)

There is a certain kind of energy that Ingram Hill exudes: raw yet smooth, new but comfortably accessible, polished while still developing--- in short, real and ready to take on the world. It is a sign of great skill when a well-established band captures on an album the same passion and depth that they have in their live show. But, it is a sign of both skill and pure native ability when an up and coming band can do the same--- and so masterfully at that.
From their beginnings in Memphis, Tennessee, the four members of Ingram Hill, lead vocalist/guitarist Justin Moore, guitarist Phil Bogard, bassist/vocalist Shea Sowell and drummer Matt Chambless, have valued highly the experience of sharing their music with live audiences. In fact, it is an integral part to what they do. When describing what someone could expect from an Ingram Hill show, Justin Moore explained simply, "it's high energy, a lot of fun and just some good ol' fashioned rock and roll." Concertgoer Tessa Horehled of Atlanta, GA concurs, "I think they have a great stage presence. Justin has a great voice and their songs are for the most part catchy and easy to sing along to. They have a good relationship with the crowd while on stage." While audiences have been especially enjoying moving and grooving to Will I Ever Make It Home, Almost Perfect and Your Smiling Face, songs all included on Ingram Hill's debut studio release, Until Now, Justin particularly enjoys performing the ballad, Chicago.
Though Ingram Hill is most at home when performing, they also enjoy the process of songwriting, an effort that is often collaborative. "Someone will have an idea and collectively, we will all work on that song together. There is no real set way that we go by when it comes to songwriting and I think that just leaves our options open to try new things," said Justin Moore. But, one definite highlight of creating Until Now, which was released in the Spring of 2002, was writing and working with someone outside of the band. Emerson Hart, lead singer of Tonic, co-produced five of the CD's eight tracks, along with Jeff Powell. In addition to Emerson co-writing Almost Perfect, Brother's Keeper, and The Day Your Luck Runs Out with Ingram Hill, he also imparted some of the wisdom he has gleaned from years in the music industry. "We learned a lot about the business in general, a lot about travelling, a lot about what to do and what not to do." But, perhaps most importantly, they learned how to hone their craft. "We learned what a song needs for it to have a good grab to it. He took some of our songs and helped us out with that. We've just given our songs a lot more dynamics, so they have more of a punch when you listen to them." Another notable co-songwriting experience came when they worked with the former lead singer of the Brand New Immortals, David Ryan Harris. "He is an unbelievable talent. We had the privilege of writing with him," emphasizes Justin. Realizing the benefits of learning from those who have gone before you, Ingram Hill is eager to continue to embrace opportunities to work with others. "We are open to writing with any established songwriters. We want to learn from everybody."
Though they didn't officially join musical forces until the summer of 2000, three of the members of Ingram Hill go way back--- Justin Moore, Phil Bogard and Shea Sowell went to the same elementary school. And, at the time when the seeds of forming Ingram Hill were just beginning to bloom, Matt Chambless was Justin's roommate. The name of the band pays homage to the small but significant joy that comes when getting close to home after travelling. In northern Mississippi, there is a town called Ingram's Mill. "When we first started travelling, we travelled Highway 78 almost nonstop and that is the last exit before our exit to go home, so everytime we'd see Ingram's Mill, it was like, "we're almost there." We swapped some letters and came up with Ingram Hill," said Justin.
Hailing from Memphis, it would be impossible to not consider Elvis Presley an influence, but Ingram Hill gathers inspiration from some of their own contemporaries, like Barenaked Ladies, David Gray, the late Jeff Buckley and others, as well. "There is a guy named Ian Moore, out of Austin, TX, who is one of the most soulful singers I've ever heard in my life." Daring to continue to push the envelope when exploring their own sound, Ingram Hill already shares a thing or two in common with those artists and bands they admire--- namely, the desire to keep growing as musicians and the pure determination to create good music and offer it to the world. Justin Moore shares their own formula for success--- one that is simple and straightforward--- and working: "Believe in what you do and play out live as much as you possibly can. The more you get to play, the better you are."

http://www.ingramhillmusic.com
http://www.tonic-online.com/
http://www.elvisnumberones.com/
http://www.davidgray.com/
http://www.barenakedladies.com/
http://www.jeffbuckley.com/
http://www.ianmoore.com/
Photo by Steve Roberts, courtesy of HoopLA Media and Public Relations