Dorie Colangelo: Interview
May 2009
By: Lauren Jonik
One could argue that the difficult truths in life go down more easily with a dose of sweetness. The music of Dorie Colangelo is like the bitter pill of longing and innocence lost covered in golden honey. For the Brooklyn-based singer/songwriter, keeping an element of piercing vulnerability and honesty in her music is what allows her craft to shine. "There is so much truth in my songs, even though I will deny things," Colangelo begins with a soft laugh. "I will sing about something so truthful that I would never say to someone's face even though they're sitting right there in the audience." But, when she is delivering her songs, her focus remains on creating a specific atmosphere, a misty vibe so tangible it can be felt immediately. "The live show is very intimate and quiet- it is something you have to sit down and listen to." Colangelo continues, "That is what I love about Rockwood Music Hall. Everyone knows to just be there for the music. It is like "Cheers." You go in and you are bound to see someone you know. Dorie Colangelo was born and raised in Connecticut and moved to New York City four years ago. "It was the best move I could have ever made. In Connecticut, I was a big fish in a small pond, but here I am so much more challenged because I see so many musicians who are levels and levels beyond what I am doing. It challenges me to be a better songwriter and performer. It is inspiring and I have new subject matter because I am meeting so many more people and doing so many more things." Influenced by Rickie Lee Jones, Bonnie Raitt, Lucinda Williams and Steely Dan, Colangelo began singing, songwriting and playing the guitar in her early teens. "I am self-taught in everything. In eighth grade, I took a group guitar class in school and then, the rest I learned myself. I would encourage that for young children because then you find your own style."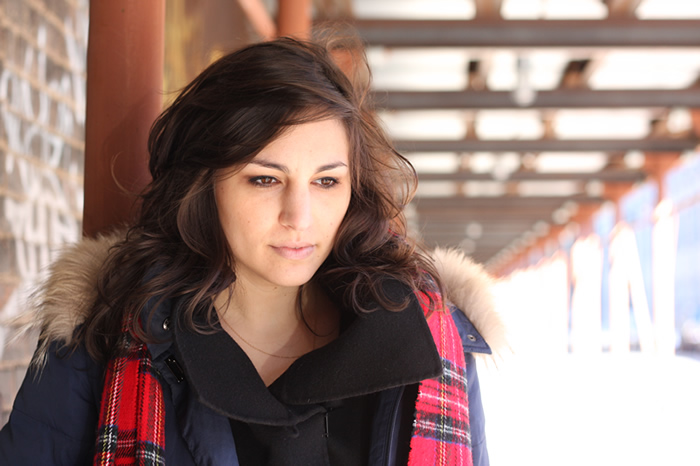 After having played for many years, in 2008 Colangelo realized the importance of having a collection of songs representative of her sound. "I had been playing for 15 years and never had an album. I had millions of demos and tons of stuff recorded, but nothing cohesive and complete." In order to rectify this, she embarked on recording the core group of songs she plays live most frequently with members of her full band, which includes Rob Draghi, Roberto Ruiz, Robin Macatangay, David Sharpe and Brian Forbes. "We did it in three days with three takes of each song because I wanted that vibe of it being a moment in time." Colangelo's clear, smoky vocals and memorable melodies serve to be effective vehicles for her strong, intimate lyrical content on the self-titled album that was released in October 2008. "This was finally a time when I came full circle and I said I was going to write music just for myself again. I went back to my folk alt-country roots and that worked for me."
The songwriting process for Colangelo is very specific. "It has always been the same. I come up with a chord progression for the verse and then a chord progression for the chorus and then, I'll start singing jibberish to all of it and that will usually turn into words," she explains. But, the inspiration for the subject matter often stems from the same place. Mostly, it is relationships that inspire me and once in a while, I will write about something and disguise it as something else," she begins before joking. "I have found that dating in New York City is like a cat on drapes. There are so many choices. There are so many people and everyone who comes here is really great-looking." But Colangelo's observation has not been without an added twist of insight. "I found out that when you are looking at a group of guys or a group of girls, you're just overwhelmed and they all look attractive. But if you look at them individually, they're all semi-good looking. It is beauty in numbers. Every little attractive quality of the group adds up to this super-attractive entity." This ability to watch others and one's self simultaneously is a key ingredient in Colangelo's music and appears in songs like "The Lonely One," which is about a musician she knew.
"Hayden's Lullaby," one of Colangelo's newest songs is not on her debut album, but is likely to appear on the next. "One of my best friends just had a baby named Hayden, so I was working on a lullaby for her. At first, it was too cynical, so I scrapped it. Then, I was having a baby shower for her at my apartment and the night before, I busted out this whole song. It just happened. I played it for her at the shower and then, I immediately recorded it. I put it on myspace and now, I am playing it live," she says. "It is the first love song I have ever written and it's for a baby. I am always writing about things not working out, so it is nice to write about something that is so lovely."
Dorie Colangelo looks ahead to continuing to write and perform around New York City in the coming months. And, when pondering the meaning of what success is, she says with an appropriately jaded, yet hopeful laugh, "There are times when I'm happy and I'm like "is this it?" Beyond that, it is to be able to support yourself doing something you absolutely love... And, to wake up in the morning and not want to shoot yourself."

http://www.doriecolangelo.com
Interview originally appeared on IndieSoundsNY