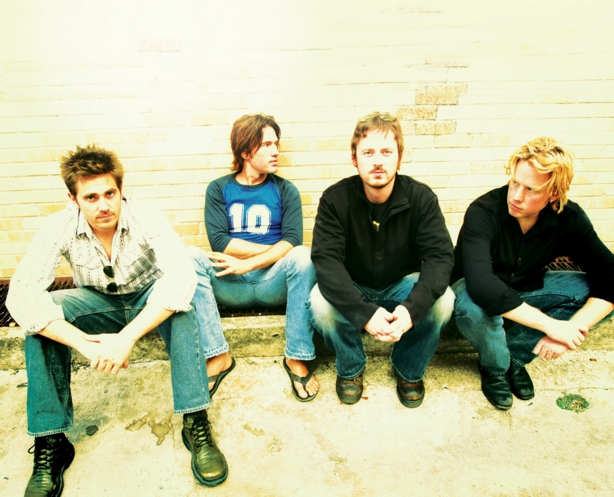 Dexter Freebish: Interview with Kyle
March 2004
By: Lauren Jonik

When we come to the crossroads / And you know we'll find a way / Yeah, a new day will begin. When I first discovered the music of Dexter Freebish, I was instantly moved. It was a time when they were embarking upon unchartered territory with the release of their first CD, Life of Saturdays. Similarly, I was at equally pivotal beginnings in my own life and their music struck a chord whose very ripples echoed in my soul. Almost three and a half years later, in January 2004, Dexter Freebish released their long-awaited second CD, Tripped Into Divine, which much to my delight--- though not surprise--- has proved to resonate just personally and deeply as their first CD.
Relentless touring, a commitment to personal and musical growth and a willingness to strive for new layers of honesty in their craft has allowed Dexter Freebish to scale new heights and reach new depths. Through the inevitable ups and downs of any creative career, Dexter Freebish has remained true to their desire to touch people with their music. Deeply valuing their connection with their fans, lead vocalist, Kyle, explains, "We're playing smaller clubs and it's always great to have that intimate setting. . . If the audience is giving to the band, it just in turn makes us give even more--- when they're responding and you feel that connection, it's great. You feel that symbiotic relationship going on." Realizing the importance of giving the audience a true performance, the band makes a special effort to showcase their songs in new ways. "We have a lots of musical parts that are sometimes slightly different live, so we try to change it up from the album, so it's not just like somebody standing there listening to the CD." And, though Prozak, the first single from Tripped Into Divine, and Twilight have been receiving positive responses from the audience, the song Pretty People--- one of the most energy-driven tracks on the album--- remains a crowd favorite. "That is one of the most fun live songs for me and I think the band and the fans always just get into it." Their love of performing and interacting with people is one of the core elements that drives Dexter Freebish to do what they do. "It's that release that you get, that high that you feel when you get off stage--- the endorphins--- the feeling that you gave everything you had up there and you get off stage and are exhausted," says Kyle with a chuckle. "And you talk to the fans and you get their input and feel at the grassroots level that you're reaching people."
That desire to reach people and to bring joy to their lives has played a role in their participation of The Rock Boat cruise, a newly annual event where fans can experience "a floating musical festival," with bands like Sister Hazel, Ingram Hill, Will Hoge, Tonic, Gavin DeGraw and many more. "They're been great every year. They're just a really, really fun time and a great way to get up close and personal with the fans. We try to make it as inexpensive as possible for the fans to come and hang out--- there's lots of live music and we cruise around and see the world. We hit cool little ports of call," said Kyle. "It's all about giving back to the fans."
The evolution of Dexter Freebish's sound is a direct reflection of the events that have helped to shape the past several years of their lives, and so the band (which in addition to lead singer Kyle, consists of bassist Chris Lowe, drummer Rob Schilz, guitarist Scott Romig and new member, guitarist Greg Combs) set out to create an album that would be an honest representation of where they lives have lead them. As Kyle explains, Tripped Into Divine is about "being on the road and experiencing how tough and grueling it is and going through a lot personally and professionally as a band as far as things with our label and somehow staying driven and just trying to keep our heads up and not get down about it all." He continues, "I think that in and of itself is something that has come out on the CD. It's a little more spiritual. There's definitely a side of it that's a little moody. I think that's from all the things we've gone through. . . We try to write about things that are going on in our lives."
While their songwriting skills have grown, Dexter Freebish's songwriting process has remained the same. "Chris, Scott and I write everything. It's very democratic. Each of us may come into the room individually with an idea, but we're wide open to constructive criticism and what we can do to make things better because as a team we write a whole lot better than we do individually. We all have something that we bring to the table," remarked Kyle. When Tripped Into Divine was coming into existence, the band had an idea of what direction they wanted to go in, but it was when they were in the studio that it all began to come together and take shape on its own. "Overall, most of it does happen in the studio--- it evolves and finds its own home there with your producer and the ideas as they come together."
It is for this alchemy of taking pieces of their daily lives, their thoughts and emotions and turning them into songs that Dexter Freebish's talents have been continually recognized by both their fans and their peers. In 2004, the band received the honor of winning the Rock Category of the John Lennon Songwriting Contest for the song Prozak--- but it was not the first time they were acknowledged. In 2000, Leaving Town was chosen as the winner for the Song of the Year--- it was event that was an incredible catalyst for the band and has echoes in the present. "It's strangely similar to the first one," mused Kyle. "Chris and I on a whim, entered Leaving Town, and this time, Chris entered on his own and didn't tell Scott or me. He entered and forgot about it just like we did the first time." It wasn't until Chris was speaking with their management one day and they congratulated him that they learned of the good news.
Often, in life, you never know what's just around the bend and there is a kind of beauty in the mystery of the future moment. "You go through life struggling and you go through the ups and downs and you're in a horrible place and the next thing you know you stumble into this really great part in your life--- you trip into divine," said Kyle describing the inspiration behind the album's title. "You come to this place where you realize that you needed to go down that path, to have that experience to get where you are now--- to be happy and appreciate where you are now. . . You stumble into that place where it all comes together and that's kind of what the whole idea behind the album is."
There is wholeness that comes from embracing all that life has to offer--- and all that it requires. "I think all the years on the road and the hard times we've gone through and the good times we've gone through make you realize that you have to be happy in the place you're at, even through the tough times. I think that is one of the things we've learned as a band, Kyle said, grateful for the experiences that have brought them not only to new levels, but through them. "We're really blessed to get to do what we do."