Charlotte Martin: Interview
October 2003
By: Lauren Jonik

The music of Charlotte Martin is like ivy--- crawling, edging ever upward along the side of the ancient building of life whose character has been carved by time and all the lives, all of the moments, it's held. With vocals infused with crisp clarity, lyrics that carry a delicateness that reveal only greater and greater depth, and piano playing simple yet complex enough to move a room full of strangers to become immediate friends with the sounds emanating from the stage, Charlotte Martin is a force.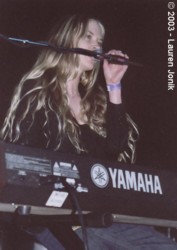 Blending the beauty of the interior of her soul with the sounds of the music she creates through her voice and her fingertips, Charlotte Martin opens the door to a landscape that is passionate, distinct and only defined by itself. Aptly describing her music as "very raw and very emotional," Charlotte explains, "It doesn't get any more naked than a keyboard and a vocal and my songs." Pouring all of the moment into her performances, Charlotte values the ability to connect through her songs, as well as the effect it has. "I just like connecting with people. You can really tell when you've connected with people. For myself, as an audience member, I can tell when the person performing is really trying to give me something, really trying to open up their songs or their writing, so I can try to see myself in it or get something out of it." Often, the most profound exchanges in life are those that act as a mirror and the most powerful moments are those when we see ourselves in a new light. Through witnessing the tangibility of another's creative potential, we can be inspired to tap into our own.
Poignant, sharp and engaging in her lyrics, Charlotte Martin weaves vulnerability and strength into the same sonic tapestry so elegantly, it's impossible to recognize where one stops and the other begins--- which serves only to remind that often, they are one and the same. In Your Armor, a song on her four song EP, In Parentheses, Charlotte asks, Is your armor thin again? / Do I want to wear it down? / Am I worthy to come in? / Do you want to be found? With lyrics that get straight to the heart and soul of the matter, Charlotte Martin's music dives beneath the surface of the past and present waves to find the pearls of wisdom and growth resting, waiting to be discovered. As she explains, "I chisel a lot when I write to get the lyrics the way I want--- to get to the point." In Your Armor, she continues with a softness that shows that sometimes, confrontation is not confrontational, but compassionate: Wandering between the girl you search for and the one you leave / And I cannot wait / Chasing you around the room is tempting / So near and far away from meaning anything to you / But just remember if you're jumping, I would start my jump off / Running after you.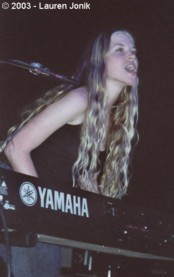 Taking inspiration from life and the experience of living, with all of the spectrum of emotions it lends, Charlotte Martin is always writing. "I write a couple songs a week. . . I'm always working on something." Keeping journals and things she made up called "words trees," which are lists of broken thoughts and ideas, help to keep Charlotte in a place where the creative flow is always moving forward--- and moving her forward. "The first song I wrote was when my friend committed suicide and that's how I started writing. That already started me writing in a place where I needed to heal myself. . . I had never had anything bad happen to me and then, to get a call saying your friend who is nineteen is dead is very intense. I think I still deal with her death." As life is multi-layered, Charlotte Martin's music touches on a variety of topics and feelings--- and includes a humorous and cleverly written song that is always an audience favorite. "I have a song called I'm Normal, Please Date Me about me stalking somebody. I try to get the whole perspective, it's not all doom and gloom. There are hopeful songs."
Influenced by artists like Joni Mitchell, Tori Amos, The Cure and The Cocteau Twins, Charlotte Martin pays tribute on one song called Monster to an artist who is a special favorite. "I love Kate Bush. Part of that song is about her--- there is one verse that is a complete homage to her. Another part of it is about being in a fight with someone and not being able to tell them how I feel." The monster I have hidden in my mouth it has to scream / All at once I give into it's sound, remembering / The monster I have hidden in my mouth / It has to sing, it has to sing, it has to sing. Charlotte Martin's songs reveal an ever-evolving self awareness and perhaps, more importantly, the conviction not only to observe one's pain, but to move through it and to see it as something beautiful--- like seeing sunlight reflected in a puddle after a storm. I cannot face my pain the same familiar way again / Cause we are more than who we are.
Believing that success comes from all of the little steps we take, the corners we round, the bends we don't allow to break us--- and is not just attained through the view of a reaching the top of a proverbial mountain, Charlotte Martin explains that her greatest successes are more personal than external. "I have moments of success, I don't have one big "it." Yesterday, I defined success because I was able to forgive someone that betrayed me. I was so hurt and wanted to hold it in and never talk to them again and then, somewhere around one thirty in the morning, I just let it go and felt like I really did something today."
When not touring, Illinois native Charlotte Martin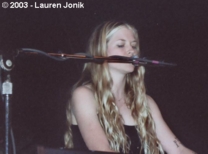 now calls Los Angeles home "There is more here--- more people, more drama--- if you put yourself in people's paths. I'm a pretty big hermit but when I do come in contact with people, I get hurt, I get inspired, I get excited, I get sad. There are more opportunities to experience." When she performs in LA, one venue stands out above the rest. "The Hotel Cafe is my favorite. It's my most favorite place in all of Los Angeles. Even if I sold a billion records, I would still play there."
An intense and powerful presence on stage, an honest and daring songwriter, Charlotte Martin is looking to the future with the same perspective she brings to her music--- from a place where the power is being fully present in the moment. "I just want to keep doing what I've been doing." As she offers in Beautiful Life, her message is simple: Promise me that you'll be standing up straight / Chasing rivers, and shadows, and time / The sun may come up and go down again / And I'll still swear it's a beautiful life.

http://www.charlottemartin.com
View more photos of Charlotte Martin

Photos by Lauren Jonik