Bill Deasy: Interview
January 2004
By: Sara Zeno

Through the broken sky a ray of sunlight fell
With a whispered cry, I stumbled from my cell
Well you live and die and then you start the whole thing over
An honest prayer is like a midnight train
It's gonna take you there through the wind and rain
When you're cold and scared and you just can't make it over
The gift of seeing through....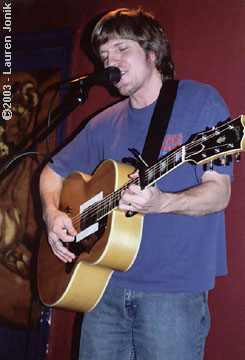 Life is a continually evolving tapestry, with threads from the past, present and future entwining to become a new creation. Pain and happiness, contentment and loneliness, loss and humor: all combine into a swirling, ever-changing reflection of the human experience. There is infinite beauty and knowledge in the process.
Bill Deasy is a songwriter who understands this; indeed, he is consumed by it. He delves into humanity's frailty, honor and nobility, searching out insights with a grounded sensibility and gratitude--- sometimes all in the same song.
His solo work is a natural extension of what he's done with the Gathering Field. He has always explored the deeper intricacies of life, yet with his last release, Good Day No Rain, something different shines through. It's a subtle changing, nearly imperceptible: a stretching of boundaries, a push into new territory, a gleam of a new perspective.
Perhaps the accomplishments and changes of the past few years have contributed to this shift. Good Things Are Happening, a song he co-wrote, was picked up in 2001 as a theme for ABC's Good Morning America. He's been regularly writing in Nashville with other musicians and in the fall of 2003, Martina McBride recorded Learning to Fall (co-written with Odie Blackmon), which Deasy refers to as "big" in his characteristically understated fashion. Throughout it all, he's been on the road, slinging his acoustic guitar and seeking out new folks who dig his style. He's eminently approachable, sporting the same slightly disheveled, homey appearance whether playing intimate rooms or larger clubs. He has the knack of always looking as if he's just stumbled out of a dimly lit writing room onto stage.
He has a devoted Pittsburgh following. An Autumn show at a packed Nick's Fat City filled the South Side club with adoring fans. Sardined onto the dance floor, they were swaying to his music, gazing up adoringly at him, and singing the chorus to the still engaging Lost In America.
In a way, Deasy's journeys began picking up steam with Lost In America, the song, and gained momentum with Lost In America, the album. In the mid-1990s the song played on the town's big rock station, becoming a top request. Atlantic records took notice, offered the band a deal, and the album was re-released.
As is the case with so many bands, the Gathering Field's label experience wasn't exactly the golden chance they may have hoped for. There was a shakeup at Atlantic and they fell through the cracks. "The Gathering Field made great records, and did all the right things, and yet sometimes it was like trying to get water from stones," Deasy remarks. "The people weren't catching it. We never really experienced what it's like to have the machine of a big record company behind us. It was disappointing."
As Deasy began moving away from the Gathering Field and venturing more into songwriting and solo territory, he released an acoustic album (1999's Spring Lies Waiting). With his second solo recording, he took an opportunity to work in a different way, including recording with producer Greg Wattenberg (Dishwalla, Five for Fighting).
That recording process was different than anything he'd done before. "I went into the rehearsal space with Shawn Pelton and the bass player [Jeff Allen]," he describes. "Just the three of us hammered through these songs that we were considering, because Greg felt if it didn't work in that bare bones form--- just drums, bass and acoustic guitar--- that if we didn't find the soul of the song, then it wouldn't work when we added other stuff.
"Greg is such a good producer, it was fun to watch him feel around for what he wanted. He was completely open to all my ideas."
Deasy did make a run for a record deal this last time, too, using the four songs he recorded with Wattenberg as a demo. In the end, it didn't work out. "I'm glad it happened the way it did," he says. "It's fun to build something on your own and have total control." After a pause, he continues, "I have this feeling, though, that ultimately, it doesn't matter as much as I think it does," he says, in reference to a record deal, "if you have good music, you're good at what you do, and are passionate about it.
This record is kind of a rebirth," he says. "I got so used to the Gathering Field. This is a good new passage for me."
Good Day No Rain--- made on his terms and in his own unique way--- has proven itself a quintessential Deasy work, with a good amount of tragedy and the spiritual stitched in. And in fact, this strange but perhaps natural combination of tragedy and hope is a theme through most of Deasy's work. Truly, his writing is sometimes deeply, painfully tragic, but he has a good instinct for tempering that with some hope. "It's just who I am," he muses. "It's just how I was made. When I was little, I lost a brother. And I think grief formed me, in a certain sense, in my personality. So, I think that's probably the thread that's in all my music, that kind of grief slash redemption thing."
It's an intriguing combination, the light battling the dark. "I'm into that," he responds. "I'm drawn to people that do that. It's all just dark versus light." He mentions The Gift of Seeing Through, a song that is intimately concerned with that battle. "That's probably my ultimate statement," he says. "I have to see through the darkness of whatever it is, of whatever illusion that happens to be dragging me down." It's a beautifully spiritual song, which is another common motif in Deasy's music. In truth a lot of his work is dotted with references to the Divine, but it's done in such a subtle way it never overpowers or feels like a religious lecture. "I've never shied away from writing like that. It's the most natural thing to me, to write about the spiritual process of living life," he says. "But I guess I try not to be. . ." he says, pausing a second, "too heavy-handed about it. I have to sort of check myself." He waits another moment before continuing, "What else is there? If you're going to write about being a human being, what else matters?"
Through Deasy's music, a message reveals itself. We are all on a journey, and just maybe, the journey itself is the point of it all. But it's the internal traveling, not the external, that is the key. "I've been saying at shows recently that the Lost In America guy was a pretty empty drifter," he comments. "I meant for him to be shallow. He was a poseur, playing the part of the tortured Kerouac drifter dude. "It was all kind of a crock. And now, that guy's older. In It's All Right There, the message of that song is, everything he went to find was all there the whole time. It's the same guy, but he's finally getting a little depth."
Deasy has been traveling intensively in the past year, searching out his audience. "I have faith that they're out there, all over the place," he says. "That's a real challenge. There are so many artists doing what I do, seeking those same people. It's like, how do I find my people out there? That's my goal right now. And that's a cool goal!" He mentions a quote a fellow songwriter sent to him. "It's like cutting down a forest, one tree at a time," he continues. "That's what it feels like. I can be at Borders in Columbus, and can just see the trees falling--- but it's one at a time. "It's never painful. Never. I'm learning to have this shield about me, in knowing what I do is pretty good, and that it's all going to work out if I do it as well as I can.
You totally know when you've got the crowd. It's powerful; a good surge of confident energy. The key is to persevere when you don't feel that," he continues, "and just trust that it is still happening even when you don't feel it."
Ralph Waldo Emerson wrote, "Once you make a decision, the universe conspires to make it happen." Deasy's lifelong passion for music and determination to pursue his dream seems to have caught the attention of the universe, something he is noticing as well. "I feel that the world is a little more open to me. This time around, in general, almost every experience feels like I'm growing, and that people are getting it and that something's happening." Deasy will continue expanding in the artistic directions he's chosen, with an eye to the future. "It's all just about expressing myself in all different contexts," he remarks. "I enjoy going to Nashville for a week and writing songs with people there, as much as I enjoy going into my basement and spilling my guts completely in a more personal way."
He's working on a new album that will be completed "sooner rather than later," and looking into touring with similar artists. He mentions a conversation he had with Glen Phillips and Kim Richey (he's written with both) about possibly touring together, and has done shows with Rachel McCartney and Brian Webb in Boston and Pittsburgh. "I still don't believe it's going to last forever," he admits. "That's the battle, trying to make it last forever --- to succeed enough to keep doing it. My life is pretty amazing. I think success is just being happy, and doing what you love, as corny as that sounds. I mean that's really it. You can be rich, and do something you hate, and dread going to work every day and become somebody other than who you really are. I feel grateful that I get to keep trying to be what I really am, as good as I can do it."
View more photos
Read a review of Bill Deasy's CD, Good Day No Rain