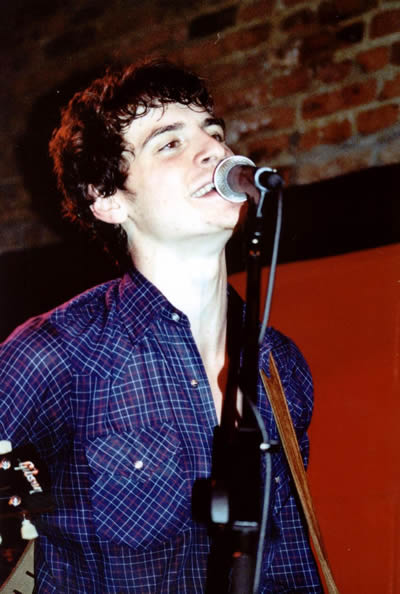 The Dig: Interview
October 2008
By: Lauren Jonik
There's an old saying that youth is often wasted on the young, but in the case of the up and coming NYC band The Dig, it is their focused work ethic that balances their youthful exuberance. With all four band members, singer/bassist Emile Mosseri, singer/guitarist David "Baldy" Baldwin, keyboardist Erick Eiser and drummer Nick Brown, in their early to mid twenties, they have been making a significant impact on the local music scene since their formation two years ago.
The kind of playful friendship and common bond that only comes with time and from a shared goal is readily apparent with the band. When asked about the origin of the name The Dig, three of the members chimed in with three different stories, each more outrageous than the last. When Mosseri simply explains, "they just thought it sounded cool," Baldwin quickly jumps in to correct him. "So, we had a second guitar player when we lived in Boston and he and Erick were walking down the street and they saw a guy who was working on a dig and it just came and hit them. Some guy yelled to him, 'hey, what are you doing?' And, the guy was like, 'just working on the dig.' And Erick overhead him. . . But, it was Brown, they later all agreed, who came up with the most creative and presumably fictional story of the moment. "The reason why we call the band The Dig is because there's a saying that if you dig deep enough you can reach the other side of the earth, like China. I'm a quarter Chinese, so we thought that if we actually did do that, I could get to my homeland, so we always called the project the dig and then we just thought we would call the band The Dig."
The camaraderie of the band translates clearly on stage and their rigorous practice schedule that includes rehearsals five days a week is apparent. Mosseri aptly describes their music as "loud fist-pumping rock and roll." But, attention to melody, structure and musical cohesiveness also feature prominently in their music, as does an awareness of the audience reaction in their live shows. With their first EP having been released about a year ago, the band has been consistently introducing new material into their live sets. Explaining the origin of a particular crowd favorite, She's Gonna Kill That Boy, Mosseri says, "Baldy came in with the chorus, the riff and lyrics and then Erick and I worked with him on the melody for the verses and Nick came up with the groove. It was pretty much Baldy's song, but we all created a form together. It came together really quickly." On the specificity of their writing, which is a collaborative effort, Mosseri says "There's has to be something consistent in all of our songs that ties them together, so if you hear it, it sounds like our band."
The Dig regularly performs both in the New York City area and primarily on the east coast, though a recent tour took them "from Montreal to Asheville, North Carolina, with a lot of stops in between," Mosseri says. In May 2008, the band began a residency at Pianos in NYC every other month and continued it into the Fall. Typically, just prior to a show in the city, all of the band members can be found scouring the Lower East Side, passing out visually captivating flyers (usually designed by artist Allesandra Greco), putting up posters and spreading the good word. The band believes that the added element of direct human contact (and perhaps, that people generally like to get things for free) is what's helped to increase their fanbase. "I think it's more effective when we play free shows because there is no deterrent," Mosseri begins. "I think it's most effective promoting our shows on the street on the day of or on the day before because then we can fill up the room with people we don't know. Because it's a free show, a lot of people come through. That's been more effective than anything on the internet. It's much more effective when you do it face to face." The Dig will bring their unique sounds to audiences at CMJ at Arlene's Grocery in late October 2008.
Counting Talking Heads, Radiohead, Nirvana, The Beatles, Portishead and Beck amongst their musical influences, Mosseri emphasizes that music has been the long-time focus for everyone in the band, "It was something that we all wanted to do since we were kids. I don't think we ever really had anything else in mind or at least I know that I never really considered anything else." But, another glimmer of truth came through when they were all asked about what they enjoy most about performing their music and they all jokingly answered in unison, "the chicks."

http://www.myspace.com/thedigisup
Interview originally appeared in IndieSoundsNY (Issue #37 October 2008).