Tonic
March 6, 2003
Double Door, Chicago, IL
By: Emily Noelle Ignacio
As soon as I wandered into the Double Door, I knew I was going to witness something remarkable. And, as I made my way through the crowd, I recognized familiar faces from Tonic shows through the years, telling unfamiliar faces "You like [opening band] Goran? They're great! But, you will absolutely love Tonic. I saw them last week in Milwaukee and they're incredible!" All those I'd asked told me that they'd already seen Tonic 3 or 4 times this tour, that each time it's been different, that they "keep it rocking' even though they aren't plugged in...But, I sure hope they play Irish this time!" "Rockin?....Irish?!," I thought. "How in God's name can they play Irish when they're not plugged in and don't have any drums?" Skeptical, I took my place at the front of the stage and surveyed the set-up: three stools in back of three mics, and a makeshift bar in the far right hand corner of the stage with, of course, gin and tonic at hand ~ all ingredients for a decidedly mellow evening, I concluded...Unless of course, there's more gin than tonic on the table...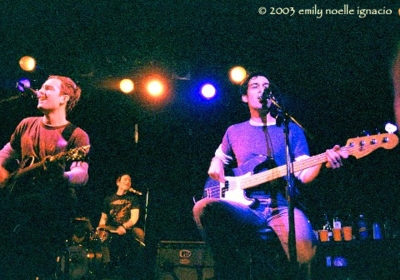 But when they played their first notes, we all were assured that there was more Tonic than anything at the Double Door, which made for a decidedly rockin' - and healing - evening. From the anthemic Open Up Your Eyes to the tender Mr. Golden Deal to their encore presentation of Fleetwood Mac's Go Your Own Way, Tonic simultaneously awed and inspired the audience, all the while evoking and cultivating a casual affair. As lead singer Emerson Hart put it, "It feels like we're all just in someone's living room...A BIG living room, but still...a living room."Although we all witnessed remarkable musicianship, never did we feel as if we were in the midst of professional entertainers, much less musicians with a rawk star attitude. While some bands try as hard as they can to bridge that divide between entertainers and audience by planning interactive sing-a-longs during their most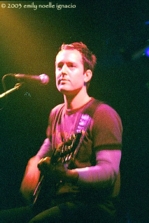 popular songs, so comfortable are Tonic as friends, musicians, and entertainers that they made us all feel as if we were at a private party, celebrating the simple fact that we chose to put aside our worries, celebrate life, and spend good time together. This easygoing atmosphere was further accentuated as each band member - Jeff Russo, Emerson Hart, and Dan Lavery - peppered the show with sporadic trips to the Tonic Bar. In addition, in the middle of each song, we were treated to Emerson's stories about the songs, about life on the road, and sometimes, about nothing in particular. Yet, even as these stories were mostly about touring, they were strangely general enough that we all could relate to them. We were also treated to Dan Lavery and Jeff Russo's talents as percussionists, as, during a couple songs, they kept beat on a miniature drum set that "would make many 9 year-olds jealous." And, last but not least, we were treated to a stunning display of pure musicianship, as Emerson Hart decided to take a break and locate the nearest facilities. Donned the Emerson's Has to Pee Theme Song, Jeff Russo and Dan Lavery launched into an impromptu instrumental which, I hope, will show up (re-titled or not!) in a future album.
Switching back and forth from their three albums, the audience was taken on a journey from innocent beginnings through heart-wrenching breakups to peace and comfort. Throughout it all,
we were treated to Jeff Russo and Emerson Hart's intricate, at times dueling- guitar work; Hart's emotive, searing lead vocals accentuated by Dan Lavery's melodious basslines; and Lavery and Russo's magnificent harmonies. Although they did play delicate songs such as Lemon Parade, Waiting for the Light to Change, and the title track from Head on Straight; they also performed absolutely rousing versions of Mountain, Wicked Soldier, Casual Affair, and their latest single Take Me As I Am. Towards the end of the show, Tonic even entreated us to a game of "Name That Tune", which led to a remarkable reggae-version of The Steve Miller Band's The Joker, before launching into their signature hit If You Could Only See. And for the encore, they ended the celebration by dedicating Mr. Golden Deal to a newly engaged couple and paying tribute to their musical influences Fleetwood Mac by playing, fittingly, Go Your Own Way. Never a show, never an exhibition, just a display pure love of music, Tonic achieves uniqueness and perfection by not worrying about being unique or achieving perfection. If you can ~ GO, GO see Tonic. Then, after you get your bearings together and if you have the opportunity, thank them for making you remember the healing power of music.
View more pictures from this show