Stellastarr*
Rosebud, Pittsburgh, PA
September 16, 2003
By: Linda Spielman

With the resurgence of what everyone is calling the pop/punk movement in music and the overwhelming response to this new era of punk, those who remember the truly golden days of this genre of music feel the void of what it was like to listen "true punk."
Hearing NYC based Stellastarr* takes one back to a time when London's neo-punk bands like the Clash, The Cure, The Dead Milkmen, and all those who followed embodied what we all remember as true punk rock. Robert Smith would be proud to hear his haunting vocals reincarnated in lead singer Shawn Christensen's stage presence, raw energy and singing.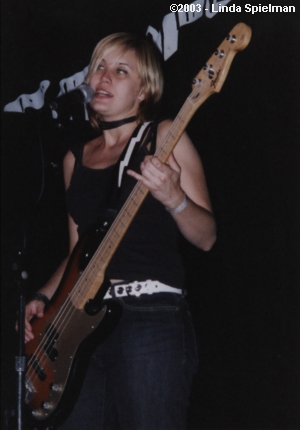 The band, comprised of Christensen, Arthur Kremer on drums, Michael Jurin on guitar & vocals, and bassist/vocalist Amanda Tannen, brings back a genre of music to its truest form after having been recently diluted into an MTV-friendly format by many bands. The UK based publication NME touted Stellastarr* as a "dream of a band with nearly every element absolutely perfect. This is a band with wit, imagination and a knack for hooks."
With an EP already under their belt and having been embraced by the London music scene, their ever growing fan base frequently seems to outnumber the capacity limits of the NYC clubs they've been playing. With their newly released full-length, self-titled CD, Stellastarr* now has the backing of a major label to push forward in bringing a not-so-forgotten form of music back to the public.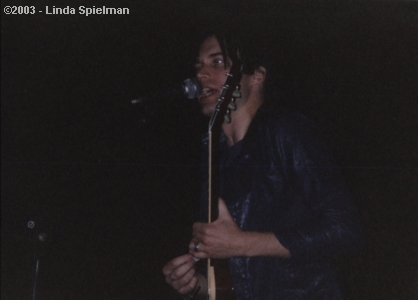 If you were to close your eyes during their set, those of us who grew up in the days of John Hugh's movies, skinny ties, Devo, Valley Girls, etc., can almost feel transported back in time. Tannen's Pixie-esque backing vocals complementing Christensen's lead, Kremer's strobe light and Elvis sunglasses and Jurin's rebellious guitar riffs all complete the visual to the equally strong songs. Classic in melody and structure, their songs are not knock-offs of their punk forefathers.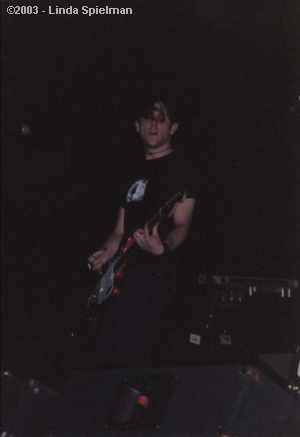 Opening for the Raveonettes, who in their own right are current underground music icons, Stellastarr* seem to have no problems winning over the U.S. crowds. More than up for the challenge of grasping the audience's attention, the band won more applause and fans with each song while playing through their newly released album. Songs such as My Coco, Somewhere Across Forever and In The Walls are just a few that bring back the true elements and guts that made punk music such a force to be heard in its glory day. Stellastarr* is not a sugar-coated version of what people are calling pop/punk today. They are what people remember as true punk of yesterday for a new generation.

http://www.stellastarr.com
http://www.ravonettes.com
Photos by Linda Spielman