Silvertide
The Machine Shop, Flint, MI
February 3, 2005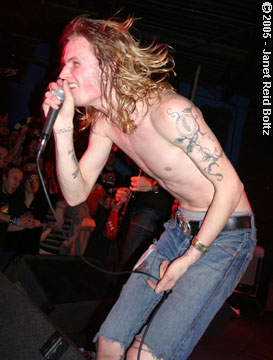 By: Matt Boltz

Silvertide rolled into Flint, MI in February 2005 riding an increasing wave of momentum that has put the young quintet from Philadelphia on the national map. With abilities that are phenomenal for musicians of any age, let alone a band with an average age of about 20 or 21 years, and influences more suited to their parents' generation, Silvertide bring a fresh new energy and a sound that should appeal to at least three generations of rock fans. With influences ranging from Aerosmith to Led Zeppelin to Guns N' Roses, just to name a few, Silvertide's music is an original blend of old and new that fuels a stage presence to be envied by most of today's performers.
Silvertide brought their highly energetic live show to Flint's Machine Shop on February 3, 2005 for a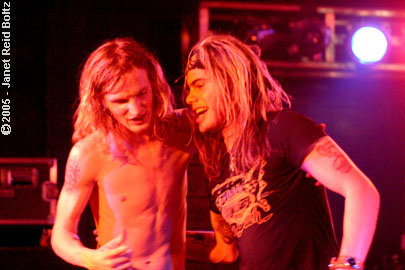 headlining show opened by Frequency 54 and Submersed. After solid sets by the openers, Silvertide took the stage in front of a large and enthusiastic crowd eager to see Silvertide's debut album Show And Tell brought to life. Front man Walt Lafty and lead guitarist Nick Perri, the two most visible and most active onstage members of the band did not disappoint, showing a stage presence and constant energy from beginning to end that would make even the most veteran rock and roll bands proud. The other three band members, rhythm guitarist Mark Melchiorre, Jr., bassist Brian Weaver, and drummer Kevin Frank, were also very energetic and enthusiastic throughout the set and are an excellent match for Lafty and Perri. All five members of Silvertide seemed to genuinely enjoy themselves during their set and fed off of the crowd's energy and enthusiasm.
Silvertide's eleven-song set left the crowd wanting more, and the band obliged with a much-appreciated encore.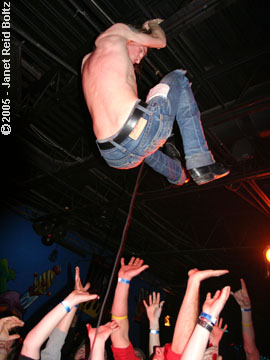 Silvertide's stage show is well polished yet very spontaneous. The band members know they are very good at what they do, and they make no effort to hide any of their passion for playing live. Among the highlights of their set were the great crowd response, Perri's extended guitar solo featuring Lafty on drums and a smashed guitar, and Lafty's climbing up to the rafters at the end of Silvertide's first single and set closer Ain't Comin' Home.
Silvertide has been touring heavily behind Show And Tell and show few signs of slowing down; the band is slated to perform with Motley Crue for part of the Crue's Summer 2005 tour. With their great stage presence, outstanding musical ability, and endless energy, Silvertide will undoubtedly gain more and more fans as they receive increasing exposure, play large venues across the country, and keep writing and performing catchy in-your-face rock and roll songs.