OK Go and Fountains Of Wayne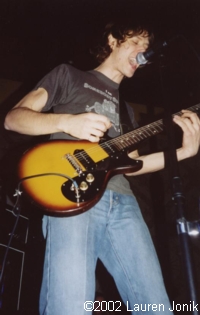 The Shelter, Detroit, MI
November 13, 2002
By: Matt Boltz

Fountains of Wayne warmed up a good-sized crowd in Detroit when they stopped at the Shelter for a midweek show on a very chilly November night. About 200 fans braved the cold to attend the November 13th show, which was opened by Chicago-based rockers OK Go. For a few hours at least, the frigid temperatures were forgotten as the crowd was treated to a night of fun, upbeat music. OK Go began the evening with a passionate 12-song set that blended elements of pop, rock, and funk and quickly grabbed the attention of the crowd members who weren't already familiar with OK Go. Songs like You're So Damn Hot, C-C-C-Cinnamon Lips, and the recent hit single Get Over It were popular not only with the OK Go fans in attendance, but also with those who came to see the headlining band.
OK Go's set of catchy, light-hearted tunes was an excellent opener for Fountains of Wayne's 65-minute set. The headlining quartet proved why they are among the best at writing concise, upbeat, and catchy pop songs that contain just enough of a tinge of rock and allow the listener to have fun and sing along without having to think too much or read between the lines. Fountain of Wayne has a stage presence that is simple, yet perfectly suited for their music. Without acting flashy or flamboyant, singer/guitarist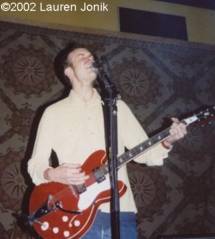 Chris Collingwood, bassist Adam Schlesinger, guitarist Jody Porter, and drummer Brian Young convey to the audience that they are having fun onstage and enjoying the audience's enthusiasm and knowledge of the songs, yet they never come close to forgetting that their job is to play music and play it well. And they did play their music well, as evidenced by the crowd's enthusiastic reaction to the entire set, highlighted by old favorites such as Denise, Troubled Times, Leave the Biker, Radiation Vibe, and Sink to the Bottom, as well as new songs like Bright Future in Sales, Bought for a Song, and Supercollider. There wasn't a great deal of interaction with the crowd during the show, but among the few times there were, a male fan yelled out, "I like beer! I like men! Tell me you love me!" to which Schlesinger replied, "Dad, I told you not to come!" Although Fountains of Wayne played a full set and an encore, the show was so upbeat and fast paced that it went by quickly and their sixty-five minute set seemed like it lasted only thirty or forty minutes.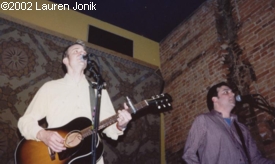 Fountains of Wayne haven't enjoyed much mainstream success since the mid to late1990s, so they played about a month's worth of dates at smaller venues like the Shelter in preparation for the release of their next album, tentatively scheduled for early 2003. They plan to tour in support of the album once its release date becomes more imminent, so check them out while ticket prices are low and the venues are small if you have an interest in catchy, straightforward pop that isn't thinly veiled as part of a more elaborate or passing genre. For more information on Fountains of Wayne, including tour dates and updates on the progress of the new album, visit www.fountainsofwayne.com. For more information on OK Go, including tour dates and how to play the band members in virtual ping-pong, check out www.okgo.net.

http://www.fountainsofwayne.com
http://www.okgo.net
Photos taken by Lauren Jonik on November 6, 2002 at the North Star Bar in Philadelphia, PA