Laura and Amber: Concert Review
Fez Under Time Cafe in New York City
October 28, 2003
By: Lauren Jonik (lauren@soundaffects.net)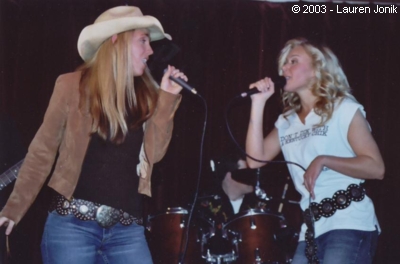 Within the cozy confines of Fez (under Time Cafe) in New York City on a cool, rainy night in late October, something remarkable happened. Once again, the power of music proved triumphant. Before the white makeshift curtain was raised and Laura and Amber took to the stage, the audience was treated to a trip down memory lane as a slide show of photos from their youth was shown. As soon as the music began and Laura and Amber appeared, it was evident that the two impossibly cute little girls had indeed become two incredibly talented and musically gifted young women. Opening their hour long set with the infectiously upbeat Leave It Up To You, Laura and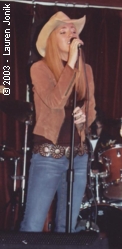 Amber hit their stride early on. Blending elements of pop, country and rock, their music defines the word catchy.
Songs like I'm Not In Love and Walk On By filled the room with warmth and youthful charm. Demonstrating their comfort level as both lifelong friends and performers, Amber joked that, while it was easy to see from their childhood photos that she was a year older than Laura due to their significant height difference, times have changed and now it wasn't quite so easy to tell which was the elder friend. The moving, mellow ballad, Your Heart Or Mine was perfect for the moody, rainy evening. In the midst of the lyrics: You tell me I'm your everything / And that you'll love me for always / But, I don't know what to do this time / It's break your heart or mine, the song gently holds the door open for the listener to wander into the space where melancholy and sweetness meet. From there,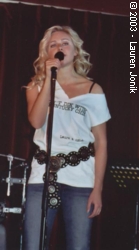 they easily and elegantly flowed into a stunning rendition of Falling.
Again turning the tide of the collective mood as effortlessly as the Autumn leaves change, Laura and Amber and their band infused the room with playfulness and joy with Pity Party Blues, and the rousing Goodbye Yesterday, a song that is always a crowd favorite. But, this was to be just the beginning of what would be an ascension into the place where artists are not merely expressing an emotion, but becoming it--- a place so inviting that the audience has no choice but to surrender to it. The melodic and hopelessly--- or perhaps more accurately--- hopefully romantic ballad Perfect World was offered with such openheartedness that one couldn't help believe that sometimes, love and music do conquer all.
Click here to read an interview with Laura and Amber
Photos by Lauren Jonik