Ingram Hill
Royal Oak Music Theatre, Detroit, MI
March 17, 2004
By: Matt Boltz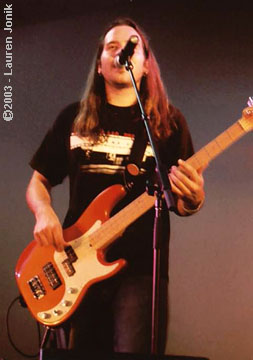 Supporting a successful and established band would probably be a daunting task for many young bands less than a month removed from the release of their first full-length album. But for the Memphis-based quartet Ingram Hill, the road is a familiar place, as is a stage shared with nationally known acts. Although they have only been together since 2000, the members of Ingram Hill are quickly earning a reputation for being an extremely hard working and road-tested band, playing hundreds of shows per year. It is remarkable that until February 2004, the band had been sustaining their frantic touring pace with only an eight-song EP to their credit. But in late 2003, Hollywood Records signed Ingram Hill and picked up the band's first full-length album, June's Picture Show, which was re-released by the label on February 24, 2004. With a new album to support and the backing of a major label, Ingram Hill is as busy as ever; included on their schedule was a stop on Saint Patrick's Day at the Royal Oak Music Theatre in suburban Detroit, where they opened for fellow Southerners Better Than Ezra.
Ingram Hill's upbeat brand of not-too-soft yet not-too-heavy pop rock, influenced just enough by their Southern roots, was a smart choice to support Better Than Ezra. Despite having spent the majority of the past couple of years on the road, Ingram Hill's vocalist/guitarist Justin Moore, guitarist Phil Bogard, bassist/vocalist Shea Sowell, and drummer Matt Chambless seemed fresh and showed a great deal of enthusiasm while leaving no question that they were having fun on stage. Regardless of what a band's music sounds like, it's hard to fake enthusiasm for an entire set, and Ingram Hill is the real deal. Moore smiled a lot on stage and thanked the crowd often for the favorable response the band received throughout their set. They appear to have learned a lot from their experiences on the road, as their show is well honed and they know how to play effectively to an audience.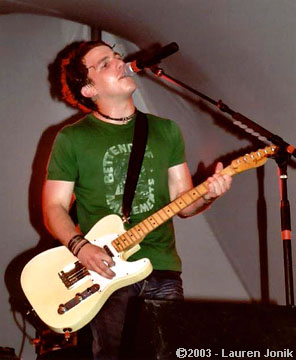 Moore exudes a welcoming sort of confidence; he knows he's very good at what he does, but he displays it in a fun and approachable manner without arrogance. His vocals were strong and consistent for the duration of Ingram Hill's ten-song set, though at times the bass level in the sound mix made it difficult to understand the lyrics. Chambless's drumming was solid and like Moore, he smiled many times throughout the band's set and was clearly enjoying himself. Bogard's leads and rhythm playing were impeccable and the sound of his electric guitar blended well with Moore's mostly acoustic rhythms. Bogard got a good reaction from the fans in front of his side of the stage every time he stepped out toward the edge of the stage and played his Gibson right in front of them, while Sowell was steady on the bass and impressive with his backup vocals.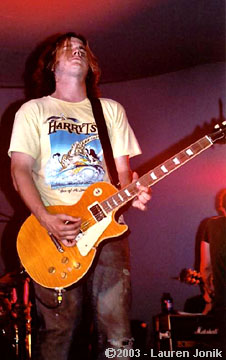 Eight of the ten songs in Ingram Hill's set were from June's Picture Show, one was from their debut EP Until Now, and one was a cover. They started the set with Never Be the Same, an upbeat song with a super-catchy chorus that allowed each band member to show his respective talents. The second song was The Day Your Luck Runs Out, a funky and grooving cut from the Until Now EP with a Motown-era flavor and a style noticeably different from that of the newer songs. The middle portion of the set consisted entirely of songs from June's Picture Show, including the haunting To Your Grave, the mellow breakup song On My Way, which showcased Bogard's lead skills, and The Captain, a fairly quiet and restrained song about family that displays the maturity of Moore's lyrics. The penultimate song was a cover of Peter Gabriel's Solsbury Hill driven primarily by Moore's acoustic guitar; while an interesting choice for a cover by a band whose oldest member was born two years after the song's release, it sounded good and gave Moore a chance to show his proficiency on guitar. Ingram Hill's final song of the set, Will I Ever Make It Home, picked the pace back up from Solsbury Hill and left the crowd to wait for Better Than Ezra's set on an upbeat note. The audience seemed to enjoy Ingram Hill and responded to their songs more and more as the set progressed. When the band members started making their way out to the lobby after their set to greet fans, there were already many people waiting in line to buy Ingram Hill merchandise and talk to the band, and the line quickly grew as all four band members appeared.
Although Ingram Hill isn't necessarily breaking a lot of new musical ground, the young quartet from Memphis has developed a unique sound, an outstanding live show, and growing songwriting skills. Their relentless touring over the past couple of years has given them a chance to share the stage with some big names while developing an entertaining and polished live show. With a major label now backing them and a rapidly increasing fan base as they continue their hectic touring pace, Ingram Hill should have many opportunities on the horizon to bring their enthusiastic style of music to even more audiences across the country.

http://www.ingramhillmusic.com
http://www.hollywoodrecords.com
http://www.petergabriel.com
Live photos by Lauren Jonik are from Musikfest August 2003
Read a CD review of June's Picture Show