Incubus Review: July 11, 2003 Lollapalooza
Marcus Amphitheater, Milwaukee, WI
and Live at Lollapalooza 2003 CD
By: Emily Noelle Ignacio
My secret arsenal is an impotent ageless ink well
It's a fountain of youth and a patriot's weapon of choice
- from "Pistola" *
Warning
Nice To Know You
Megalomaniac**
Make Yourself
The Warmth
Stellar
Circles
Vitamin
Battlestar
Nebula
Pistola
Drive**
Nowhere Fast
X-French T-Shirt
Wish You Were Here
* Much thanks to incubusonline.com for a transcription of "Megalomaniac" and "Pistola"
** Performed at Lollapalooza, July 11, 2003 (not included in Live at Lollapalooza)
Warning: this review is written by someone who tends to pay entirely too much attention to lyrical content, crowd and band interaction, stage presence, lighting, the order of songs on the setlist, and other silly nuances (see the G Love and Special Sauce review, for example).
Experiencing the Warmth: A year ago, I was fortunate enough to see Incubus perform at Atlanta's HiFi Buys Amphitheater along with fellow SoundAffects.net contributor, Alice Barkwell. Then (opening-act Har Mar Superstar's striptease notwithstanding), Incubus was the center of our attention. For nearly two hours, we were treated to a 22 song joyride through their last three albums, S.C.I.E.N.C.E., Make Yourself, and Morning View, passionately singing along as if our lives depended on it. For many Incubus fans, this is not far from the truth. Self-reflection and, often, self-affirmation are embodied within most of Incubus's songs. This, combined, with their easy-going, carefree performance, and their choosing to end the show with a hypnotic rendition of Aqueous Transmission made us all forget our worries for the time being. We left the stadium remembering exactly why we came and are alive after experiencing the warmth they had generated in our hearts on that cool October evening. It is this kind of self-reflection and optimism that draws people to Incubus. And, it is this positive energy that underlies the creation of their new Make Yourself Foundation, the just released "bootlegs" of Time Lapse Consortium (Mike Einzinger, Jose Pasillas II, and Ben Kenney's 'other' band), the Live at Lollapalooza 2003 performances, and, presumably, Brandon Boyd's book White Fluffy Clouds. (The live performances and Boyd's new book are available at enjoyincubus.com)
Mo(u)rning View: Choose Anew, Please Evolve, Take Flight
But white, fluffy clouds can rapidly turn into grey, ominous storm clouds, and on July 11, 2003, we were treated to bits of sunshine and a torrential storm--- literally and figuratively.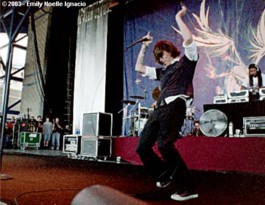 Although two songs into the set, we were reminded that "to obtain a bird's eye is to turn a blizzard to a breeze," the emotional, lyrical, and musical starts and stops between and within songs made me keenly aware of every, single moment of their performance. Throughout this set, we were flung to and fro as the melodies and lyrics swiftly changed from slow, gentle, melancholy reflection to fast, furious, hard-driven, decisive ideas of what kind of person one does and does not want to be. Although these rapid changes can be found within and between most Incubus songs, especially those in Make Yourself and Morning View, their new songs Megalomaniac and Pistola injected a forceful staccato and a contemplative rage into the set, flagging and reinforcing the urgency of the moment. Later in the show, the derisive lyrics in Megalomaniac seemed to reflect uneasiness with or perhaps distaste of fame in general, especially when Boyd robotically went through the motions of removing his shirt and tossing it aside. Though it was a warm evening, it seemed to be an obligatory gesture to assuage some of the more impatient, screaming heterosexual female fans. Sadly, this feeling of obligation was absolutely cemented when Boyd apologized profusely for the frequent airplay of "this song that you've probably heard on the radio a million times. . . but f**k it, we'll play it anyway" before launching into Drive. And, the inclusion of the melody of Shudder to Think's X-French Tee Shirt in conjunction with eerie lyrics (Hold back the road that goes so that the others may, too / Did you let me in just to pour me down their mouths?) added mystery to the show.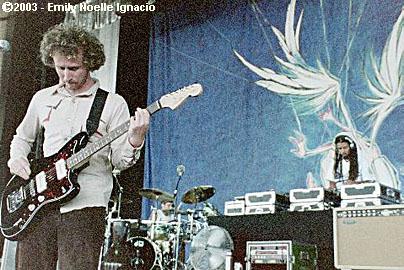 But, perhaps this was a bird's eye view. After all, this is Incubus, a band that challenges its listeners to make themselves by embracing all feelings and thoughts and reflecting on their power and presence, no matter how heart-wrenching or difficult. It was especially during these first three songs that multitudinous emotions were evoked. Opening with Warning and Nice to Know You, we were encouraged to live life fully and bid a forceful farewell to a comfortably numb existence. But, starting anew can be difficult,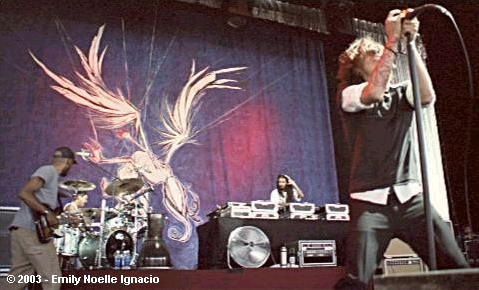 and the third song, Megalomaniac, embodied the rawness one feels when letting go of the past while frantically trying to envision and build a future. The raging beat and Incubus's presentation reminded me of old-school punk bands, ferociously whipping around the stage, emanating the fury of their songs. Lyrics such as Hey megalomaniac / You're not Jesus / Yeah, you're no f**king Elvis/Special, as you know yourself, maniac / Step down/Step down left me wondering if this song merely described the type of performer members of Incubus did not want to become--- or if it was a self-deprecating reflection. This song served to elevate the poignancy--- and urgency--- of the next song, The Warmth, as Incubus reminded us of the utmost importance of focusing on the reasons for being alive rather than trudging along, frozen in fear due to others' (mis)perceptions. The juxtaposition of the next two songs, Stellar and Circles, reflected the incredible highs and lows we face in this world's roller coaster, especially once we decide to embrace Life fully. And, in the middle of the show, they performed a vicious rendition of Vitamin with Einziger and Kenney's thundering guitars and Pasilla's pounding drumbeats accentuating each word of the chorus: You stare at me like I'm a Vitamin / On the surface you hate, but you know you need me!!! And at the end of this song, the band segued into a dizzying freeform something which just. . . ended. . . somehow. This was followed by a tight performance of another new song, Pistola, which contains magnificent lyrics which celebrate, encourage, and protect alternate ways of thinking, and like Megalomaniac is reminiscent of old-school punk. Then, after reluctantly playing Drive, we took another turn, going Nowhere Fast before the band delved into an a mostly acapella version of Shudder to Think's X-French Tee Shirt and closed (wryly?) with Wish You Were Here. Their performance of these songs was storytelling through movements--- every stomp, every hand/arm movement, and every clanging cymbal, heavy riff, and tender guitar strumming Incubus mustered indicated a new line of inquiry, new chapters to explore, a simultaneous end and beginning--- mourning to morning view if you will. . . and sometimes back again.

Wish You Were Here: Is this damnation, Or a beginning? I'll take "B."
Somehow, the Live at Lollapalooza 2003 compilation captured, recorded, and pressed the raw energy Incubus exudes in their performances. The setlist is much the same, except instead of Megalomaniac the band included spectacular versions of Battlestar and Nebula which they performed with DJ Cut Chemist and DJ Nu-Mark from fellow Lollapaloozans Jurassic 5. In this bootleg, though, the gales we experienced at the Milwaukee show have subsided and were replaced by a cool breeze. Vitamin slowly eases into Kool and the Gang's Jungle Boogie, and is followed by Lionel Ritchie's Hello. Also, listeners can experience Ben Kenney's smooth, melodious, and harmonizing bass playing within each of these performances. For me, this is most apparent in the bridge to Nice to Know You, which includes a spectacular interaction between Kenney and Einziger that accentuates the thoughtfulness of the lyrics, I haven't felt the way, I feel today in so long it's hard for me to specify.
For myself, Incubus's performances at the July 11th show and captured within the Live at Lollapalooza 2003 bootleg are phenomenal in that within 45 too-short minutes, they took us on yet another captivating journey through their last three albums, displaying their musicianship by moving to, from, and between various musical genres with ease. In both these shows, abrupt starts and stops were accentuated by tender moments--- or to take a more optimistic view, tender moments were accentuated by abrupt starts and stops. Overly reflective and sensitive to lyrical content and performances, these shows also reaffirmed my feeling/fear that peace is a trying process, an active force which has to be chosen, developed, and retained, not merely achieved. In their words, "Is this damnation, or a beginning? I'll take "B."

Incubus will release their latest album, 'A Crow Left Of The Murder' on February 3, 2004.
http://www.enjoyincubus.com
Go here to view more photos from this performance
Photos by Emily Noelle Ignacio