George Clinton and Parliament/Funkadelic
House of Blues Chicago, IL
November 14, 2002
By: Emily Noelle Ignacio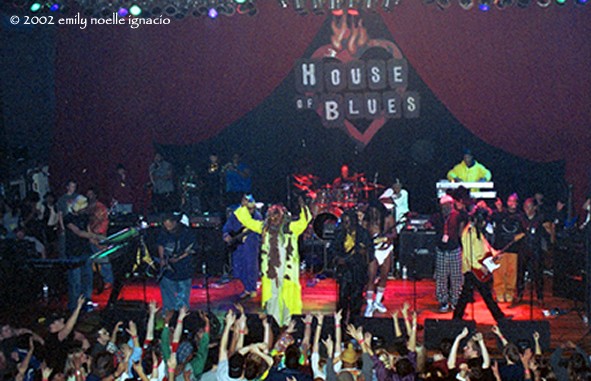 "Free your mind…and your ass will follow..."
Once upon a time called RIGHT NOW, I dream of a world in which we live in peace and harmony, have attained equality, and practice social justice. I dream of a world which is not afraid of, but revels in the understanding of and celebrates the diversity of races, ethnicities, religions, and sexualities. As a sociologist, I am often inundated with depressing statistics and disturbing stories which undoubtedly show "we still got to get over the hump," so to speak. And as a human who deeply cares about our world, these statistics and stories often drag me down and bring me to tears. But last Thursday, while waiting in line to get into the House of Blues, the most salient thing that struck me was that I was surrounded by several generations of funkified people of all races, ethnicities, ages, genders, and most likely sexualities who somehow were more than willing and able to put aside any differences they may have carried in the "real world" as they entered into the venue. After all, "funk not only moves, it can remove – dig?"
At 10 o'clock, we were greeted by now familiar sounds – deep, thick, syncopated bass riffs; scratching rhythm guitars; prolonged, elaborate and spacey guitar solos; intermittent, yet strong, powerful horns; dueling synthesizers; and of course, percussionists providing a steady rhythm, but always placing emphasis on the One. Instantly, the whole house turned to the stage and welcomed the many musicians who gave birth to and nurtured funk. Loud cheers emanated from the audience as Garry "Starchild" Shider (clad in a diaper and sunglasses, as always), Mike "Kid Funkadelic" Hampton, DeWayne "Blackbyrd" McKnight, Robert "P-Nut" Johnson, Billy "Bass" Nelson, Cardell "Boogie" Mosson, Lige Curry, Sheila Washington Horne Brody, Bennie Cowan, Greg Thomas, Michael "Clip" Payne, Frankie "Kash" Waddy, Joel "Razor Sharp" Johnson, Jerome Rogers and eleven other incredible musicians introduced themselves to the party people. For about four hours, we all danced, sang, smiled, laughed, and participated in this celebration of the One. P-Funk, dressed in an eclectic mix of elaborate costumes, reached out to us by inviting us to sing along to extended versions of classics such as Bop Gun, Funkentelechy, Flashlight, Free Your Mind, of course, P.Funk ("we wants to get funked up"), and many others. Through music, this glorious ensemble encouraged us to cultivate understanding, release unfounded fears and inhibitions, and be open to new ways of thinking. By weaving multitudinous musical styles and sounds into uncut funk, we felt as we could belong to One family, and so we turned to each other as we sang along as best we could. Our willingness to let go and become "victims" of the Bop Gun was symbolized by the minimal stage presence and elusive sightings of Sir Nose D'Voidoffunk.
Halfway into the show,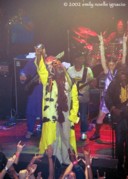 George Clinton finally emerged onto the stage to join the celebration, and the elated crowd welcomed his regal presence with a resonant roar. Robed in yellow, head crowned with long, free-flowing pink dreadlocks, the Master of Ceremonies embodied dignity and freedom. After he greeted the great legends on stage, he gracefully gestured towards the crowd and welcomed everyone to the family. Thus begun a rousing rendition of Cosmic Slop in which Clinton solidified his status as the Master of Ceremonies by bringing everyone closer to his dream of one nation under a groove. Reaffirming solidarity, he raised his hand and gave a "rawk owt" sign, followed by members of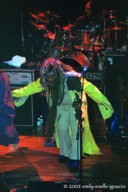 P-Funk, and emulated by a sea of people. For the next two hours, Clinton and P-Funk subtly reminded us of obstacles still not overcome and harsh realities still present, while simultaneously celebrating strength and the ability to overcome. While I, my colleagues, and others often opine the current situations of many mistreated people (especially adverse race relations in the United States), through music George Clinton encouraged us to keep learning, understanding, and struggling to tear off the roof off the cycle of systematic ignorance and violence while keeping love and hope alive.
One week later, as I'm bombarded once again with accounts of violence directed at my black male brothers by venomous individuals in my own backyard, and as I'm confounded by volatile institutions which (within one week) celebrated "unity in diversity," yet responded remarkably tepidly to these acts of rage, I am reminded that we still have to get over the hump. Yet, as I immerse myself in memories of (and listen to) the funk, I am also reminded that I must not believe that caring human beings are the Endangered Species. Instead, I must urge everyone to dance, sing, celebrate, focus on the One – and most of all, free your mind….

Click here to view more photos from this show