G Love and Special Sauce
October 31, 2002
Vic Theatre, Chicago, IL
By: Emily Noelle Ignacio
"Just stand still and feel the goood music"
Halloween night in Chicago for a 32-year old woman who'd long abandoned her propensity to imbibe bad "beer" and rub against massive amounts of people who'd consumed said bad "beer" seemingly all day long has the potential to be a nightmarish event. (Yes, I am an unapologetic beer snob and a claustrophobic curmudgeon - not a good combination for someone who enjoys going to live music performances!) So, venturing to the Vic to see the one and only G Love and Special Sauce was a bit of a sacrifice - but a sacrifice well worth making.
As expected, the audience had more than their fill of cold beverages. But though the ingredients for one gihugic nightmare all were present, the addition of Philly-born and bred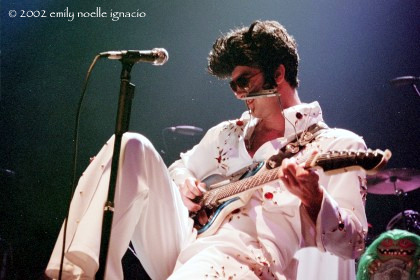 G Love and his Special Sauce transformed it into one pleasantly smooooth dream. Dressed as Elvis in a white rhinestone covered 70's-style suit, poofy hair and large, buggy sunglasses, G Love swaggered onto the stage with guitar and harmonica along with his band mates, bassist Jimi Jazz (in a Viking costume) and drummer Houseman (who looked like a flamboyant Grim Reaper in fiery red), and promptly set the mood for the rest of the evening. Like a ring-leader at a circus, G Love played with the crowd, encouraging them to focus on the two other incredible musicians in this band, as well as, the various Halloween accoutrements which adorned the stage. Alternately singing with the crowd and wailing on his harmonica while jamming on his guitar, G Love created frenzy among his most die-hard fans, most of whom were located in the front row. At times, they resembled the followers of faith-healers, as they would feign fainting and rely on their friends to prop them up so they could quickly resume dancing. While highly entertaining, after a few songs into the set, I'd left my post up front to look for a beautiful, groovy, wonderful friend of mine so, I too, enjoy the blues music with a friend. But, unfortunately, with the Vic teeming with people, I could not locate him during the show. Lights low, I'd strangely bumped into the same strangers over and over, who were also looking for their groovy friends. After a few songs of fighting against this swaying and singing crowd, we all decided to succumb to their lead. One of my lone counterparts, tired of craning her neck in vain, sighed, "There's no way we'll be able to find them. But, we all like it here. So let's just stand still and feel the goood music."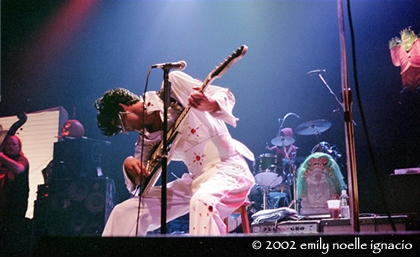 With one part Carnivale, two parts Mardi Gras, three parts Philadelphonic, and four/four parts "blooze myuzak", G Love and Special Sauce concocted a peculiar atmosphere of groovy-ness and cheesiness. Laid back and cool, G Love and Special Sauce are clearly masters of the blues, jazz, and hip-hop; this was most apparent during the extended jams during Garbage Man and the newly arranged, solo, acoustic rendition of Baby Got Sauce. But, unlike other artists who expertly fuse the different genres (like the Out-of-This-World-Cool Digable Planets), G Love managed to evoke and cultivate a sense of haphazardness and disarray. It's akin to throwing a fondue party with croutons and Cheez Whiz. But, strangely, this seemed to be precisely the message G Love and Special Sauce wished to create: within minutes of their arrival, the general rules of the place were to abandon all those silly, limiting, and unnecessary social conventions, and let loose and feel the groove .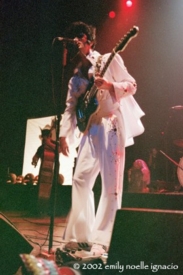 By the time G Love began to play the crowd favorite Cold Beverage the audience had well demonstrated how much they like "cold beverage, yeah," and let loose with a scream. At the end of this two hour long set, G Love, Jimi Jazz, and Houseman with members from Slightly Stoopid (the opening band for the evening), played a rather rousing rendition of Blues Music. The still-energetic crowd swayed and sang, then danced their way out of the Vic for some more celebration out on the town, jiving to the beautiful sounds of Philadelphia infused with the Chicago blues.