Charlotte Martin
Joe's Pub, New York, NY
April 14, 2004
By: Lauren Jonik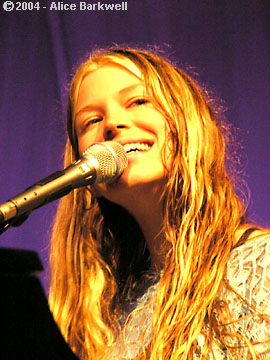 When the convergence of passion and years of cultivated skill greet each other in the present moment, something magical is bound to happen. This was beautifully demonstrated by a performance by Charlotte Martin at Joe's Pub in New York City on April 14, 2004. Opening her captivating ten-song set with the title track from her upcoming RCA Records release, On Your Shore, Charlotte Martin mesmerized the audience with her vocal prowess, lyrical depth and musical abandon. Beginning with the words I dig my heels into the dirt, 'cause this one's gonna hurt / Won't let the waves wash me away is what I always pray, Martin set the tone for a journey that touched on a kaleidoscope of emotions--- a world where feelings overlap with one another, colliding in a brilliant collage of sound, all the while finding comfort in being just where they belong. While Martin sang When I was melting in your hand, you didn't understand / You slip through me like grains of sand, you still don't understand, it was easy to envision the moment when those very words were being born through a real life experience. In both her writing style and her performance, authenticity permeates and serves as one of the forces that deeply connects the artist, the music and the audience to one another.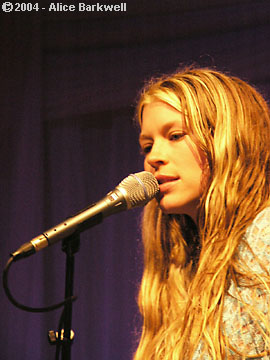 In Every Time It Rains, Charlotte Martin again reminds that light and darkness are inextricably linked. Like watching moonlight shine on the tide it guides, both joy and sadness are reflected in the experience of being human--- and drive us forward towards moments of unexpected beauty. Every time it rains, I know it's good to be alive / Every time it rains, I know I'm trying to survive. The driving, upbeat Limits Of Our Love declares: And I will never quit the fight / I'll push the limits our love / And every passing day and night, I'll push the limits of our love / And everything will be alright, I'll push the limits of our love to see how far it goes. . .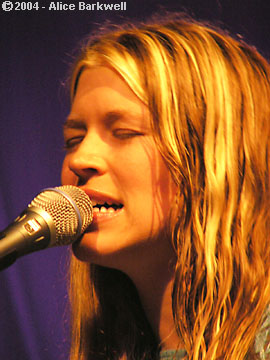 Sitting before the black grand piano, bathed in soft, lavender lights, Charlotte Martin's rendition of Wild Horses by the Rolling Stones was no less than spellbinding. During the acapella chorus, the room fell still and silent listening to each note with rapt attention. And wild horses couldn't drag me away / And wild horses couldn't drag me away. . . Embracing the fullness of her talent without reservation, she continued her set with Parade On, another of her original songs from On Your Shore. She ended with Something Like A Hero before returning to the stage for an encore. Much to the audience's delight, she performed an electrifying version of Monster from her EP In Parentheses. As Charlotte Martin sang I'm reaching deep inside with every thing I am, it was beautifully apparent that she was sharing it with the rest of us.









http://www.charlottemartin.com

To view more photos from this show, go to:

http://www.soundaffects.net/photos/charlottemartinpg2.html


Photos taken by Lauren Jonik