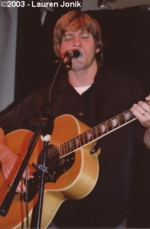 Bill Deasy
CB's 313 Gallery, New York City
September 30, 2003
By: Sara Zeno

Away from the cacophony of New York City's vibrating streets, the cool and black calmness of CB's 313 Gallery enveloped singer-songwriter Bill Deasy. The acoustic show meshed his introspective and relaxed style with the plentiful energy of the city.
Dressed simply in a short sleeve shirt and jeans, bangs flopping dangerously close to his eyes, he sat alone on a small stage with a honey-toned guitar. He opened the set with Midnight Ghost, a song from his days with Pittsburgh band The Gathering Field. Then he led into music from his latest release (Good Day No Rain), performing I Want to Know and Blue Sky Grey with clarity and passion.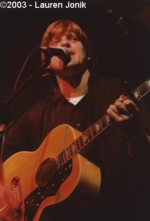 "The next song is one of my favorite songs I've ever written," he said, prefacing In My Head, also from Good Day No Rain, "so of course it's depressing. It's about this guy. I don't know what he did, but it must be pretty bad. He can't even speak to the girl."
Deasy's career is anything but depressing, especially recently. Surviving a deal then subsequent split from a major label with the band, continuing on his own as a songwriter, writing then performing a theme song for Good Morning America, self-releasing a solid solo effort, and traveling for frequent sessions in Nashville have all added up to a working artist without the dreaded day job. To top it off, he co-wrote a single on Martina McBride's newest album, coincidentally released the day of the show.
"I just got this burst of euphoria," Deasy said at one point. With a genuine sense of gratitude, he continued, "I'm just so happy I can sing. I get to go and sing songs. And sometimes I get paid."
He then proudly introduced a new tune, The Wishing Well, which boasted a throbbing rhythm and Deasy's voice leaning toward a sexy growl. It pulsed across the audience, its mood a little angry and lost, yet with redemption on the horizon: Lead me from the darkness with your smile . . . Would you be my savior? / Could you heal my anger and lay with me awhile.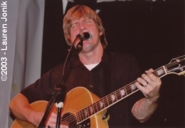 Later, an offer to take requests elicited a strong and immediate response from a woman at the bar who shouted, "Bordertown!" Deasy obligingly played the old song with gusto.
While continuing his tour of Good Day No Rain with two more songs from the recording, Somewhere In Me and I'll Rescue You, Deasy engaged the friendly group and coaxed their participation on Somewhere In Me.
His set ended with heartfelt renderings of Everything's All Right and Lost In America, both songs recognizable from Deasy's time with The Gathering Field.
The unpretentious show offered a warmly interactive evening for even the busiest soul, creating a harbor of comfort and inspiration before a return to the gleam of the city.

http://www.billdeasy.com
http://www.martinamcbride.com
Photos by Lauren Jonik