Jump, Little Children: Live At The Music Farm (DVD)
July 2003
By: Matt Boltz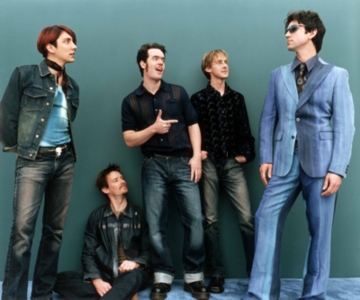 The increasing popularity of DVD players has brought an influx of music-oriented video and audio offerings. The audio and video quality offered by DVDs is superior to that offered by CDs and VHS tapes, respectively. Many bands have taken advantage of this and released DVDs containing videos, concert footage, interviews, or enhanced versions of their audio recordings. Those who own surround sound systems can take advantage of DVDs that are encoded with specially mixed audio tracks designed to provide the listener with a 360-degree listening experience (5.1 surround sound). For those who do not own 5.1 capable DVD players or receivers, DVDs also include a standard two-channel surround track that is designed for conventional TV speakers and non-5.1 surround sound receivers.
A rapidly increasing number of bands are offering DVDs for their fans, including Jump, Little Children (JLC), a veteran quintet from Charleston, SC known for their tight live show, devoted fan base, and willingness to explore new musical ground. JLC's debut DVD, Live at the Music Farm, is highlighted by a 90-minute concert filmed in the band's hometown on March 30, 2002. The concert portion of the DVD displays the band's polished live show at their best while capturing their fans' loyalty and enthusiasm. JLC picked a great show and venue at which to film, and the energy and excitement of both the band and the audience is evident throughout the concert footage, which includes songs from each of the band's four studio recordings. It is apparent by the audience's reaction and participation throughout the set that they know and love each of the songs. Thanks to good camera work and a variety of camera angles (though there is not a multi-angle viewing option), the viewer is able to see close-ups of the individual band members interspersed with full band shots. The audio and video quality is very good; however, some audio enthusiasts may be disappointed to discover that there is only a 2-channel audio track with no option for 5.1 surround sound.
JLC makes up for the lack of 5.1 audio by including unique, creative, and hilarious extra features. The highlights of these extra features are light-hearted campaigns in which each band member demonstrates why he feels he is the most important member of JLC. The viewer is able to pick a favorite band member at the end of the DVD, with a different result depending on who is chosen. These humorous snippets do more than just give the viewer an opportunity to laugh; they also offer a glimpse into the band members' individual personalities and senses of humor. JLC takes their music very seriously, but they also seem to know how to have fun and keep their fans engaged and entertained. The final extra feature on the DVD is a collage of video clips taken from the band's 2002 North America tour. Highlights include an unsuccessful, but entertaining, attempt at skiing, a synchronized swimming display, and the singing of the National Anthem at Boston's Fenway Park.
Jump, Little Children has been making music together for the better part of a decade, and their business and interpersonal experience shines through on their debut DVD. The musicianship on the DVD is outstanding, as is the set choice. The DVD flows well and the band's set includes a variety of musical styles, including rocking guitars, an accordion, an upright bass, keyboards, and soaring vocals. JLC was smart to include the comedic extras on this release. Live at the Music Farm could easily stand alone on its musical merits. Add the band members' campaigns to be the fan favorite and the behind-the-scenes tour footage and this is a DVD that surpasses many of the major label-produced DVDs on the market today.

http://www.jumplittlechildren.com (band's official site)
http://www.ezchief.com (record label)
http://www.musicfarm.com
http://www.seven-days.org
Photo courtesy of HoopLA Media and Public Relations